Nkroful City Project critical to development of Nzema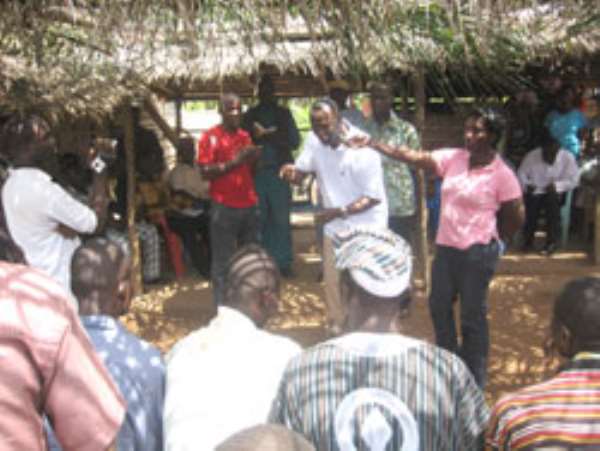 Kofi Buah addressing cocoa farmers


AN IDEA conceived for the conversion of Nkroful, birth place of Ghana's first president, Osagyefo Kwame Nkrumah, into a modern city by the Member of Parliament (MP) for the Ellembelle Constituency, has received the endorsement of the government, according to information gathered by the Western File.
At a brief ceremony organised by the chiefs and people of Nkroful to welcome a government delegation, led by the Western Regional Minister, Mr. Paul Evans Aidoo, to the palace, the people of the small town questioned if the development of the community was at the heart of the government's overall plans for national development.
But, in a brief answer to the barrage of questions posed to the team, Mr. Paul Evans Aidoo said the development of Nkroful was very critical to the development of the whole of Nzema, since the tourism potential of the community was beyond its current status on the tourism calendar of the country.
Consequently, he asked the people to exercise patience, whilst the challenges of the region, which include that of Nkroful's development, were tackled one after the other, noting that they had all been factored into the development agenda of the government.
Nana Blumiatwum, Assembly Member for the Elleenlibo electoral area in Nkroful, who led the onslaught of questions, criticised the government in presence of the delegation, pointing out the shortfalls of the administration with incessant attacks that the administration of Professor Mills had failed to improve the status of Nkroful, when he, the president (an Nkrumaist) and the NDC, had promised in opposition that they were going to lift up the status of the community, and pull the people out of the doldrums, but two years into his reign, they were not seeing signs of those promises.
But, in a sharp rebuttal, the Regional Minister disputed his assertion, stating that it was not possible for the government to concentrate all the district development projects in Nkroful only, just because it was the capital of the Ellembelle district.
He said they were ready to tolerate constructive criticism, but would not be cajoled into positioning all development projects in one town., Though, he admitted that the tourism potential of the area was critical, it was not advisable to neglect other communities just for the sake of Nkroful.
He told the gathering: 'Development must be circulated, it doesn't matter which community gets what, but all developments in the district can't be centered in the capital.'
The Member of Parliament of the Constituency, Mr. Emmanuel Armah Kofi Buah, who was unhappy with the criticisms, referred the Assembly Member to his office, which he had deliberately positioned in the town, and advised him to understand the dynamics and importance of evenly spreading development in a district.
That explanation notwithstanding, he told the gathering that an idea he conceived for the community (Nkroful), which was to make it a big city in the near future, had already been embraced by the government.
He said: 'The Nkroful City Project is very critical to the development of Nzema, because of the tourism potential of this area. Again, let me remind you that the architectural design of the project has already been carried out. Apart from that, Telekobokazo, which is one of the fast growing communities around Nkroful area, has been declared an industrial zone.'