Zoomlion sanitises Darkuman against cholera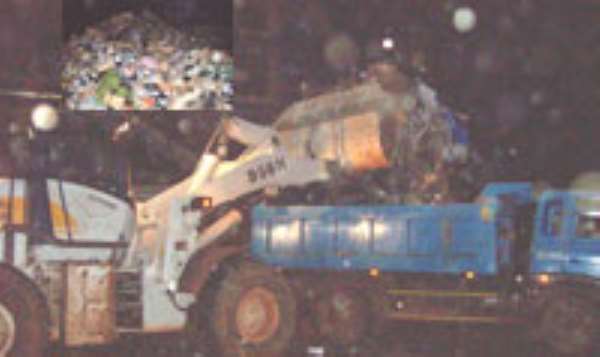 Trucks of Zoomlion clearing refuse from some parts of Darkuman, INSET: One of the refuse heaps at Darkuman
Zoomlion Company Limited, a leading waste and sanitation management institution in Ghana and many parts of Africa, earlier this week focused its activities on the Darkuman Cable and Wireless area, a suburb of Accra, where it organised a massive cleanup campaign and cleared mountains of filth which had engulfed the area.
Mr. Robert Coleman, Zoomlion Manager of Domestic Waste, said the exercise was to rescue the area from the rampaging cholera disease which had bedeviled the country in recent times, and killed over 70 people.
In an interview with the File, Coleman said the scenes he witnessed, which was how filth could have piled up in a densely populated area with its accompanying health hazards was heartbreaking.
'…it was an eye sore, and the stench was unbearable, so in the interest of Mother Ghana, we quickly mobilised our bulldozers, pay loaders, trucks and other heavy machinery, and began evacuations that very night, where we carted tonnes of filth from the site to the relief and admiration of residents.'
Residents of Darkuman Cable and Wireless, who watched as their 'burden' was evacuated, were full of praise for Zoomlion.
'In fact, we want to thank the Zoomlion for their help, because there are plenty people in the area, and some have got the cholera and have died, and so we and the people of Darkuman Cable and Wireless say, God to bless Zoomlion.'
'This place was very bad, aside the refuse, many dumped toilet, and aborted babies were dumped here, and the scent was terrible when all these things get rotten, said Awo Yaa, a 75 year old resident, adding, 'so we thank God that Zoomlion has come to help.'
Coleman added that Zoomlion had earlier organised clean-up and fumigation exercises as part of its corporate social responsibility towards the fight against the cholera epidemic,
He said Zoomlion was adequately prepared to fight the disease in its operational areas, especially, in the upcoming rainy season.