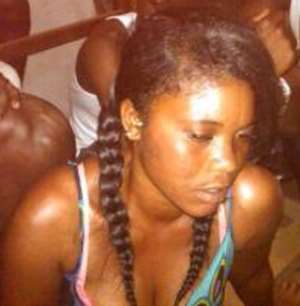 Police in Legon have granted bail to Amina, the lady who was molested by some students of the University of Ghana for allegedly stealing some electronic gadgets.
The police say the lady is yet to recover after she was discharged from hospital early this week. She however reports daily to assist in investigations as the police make efforts to arrest those who stripped and molested her.
The crime officer for the Legon Police command, ASP Emmanuel Basin-Tale told Citi News that 'she (Amina) is helping but she's not very well; she hasn't recovered fully so we don't want to overstretch her because she's also going through some psychological problems'.
On Thursday April 7, there was a "fruitful" meeting with the university authorities,according to ASP Emmanuel Basin-Tale. "We're getting the needed cooperation from the university authorities and it's helping to speed-up investigations although no student identified in the video has been picked up yet' he told Citi News.
Some male students of the Mensah Sarbah Hall annex B arrested Amina,the victim, for allegedly stealing a laptop and other gadgets belonging to a female student of the mixed hall.
Instead of handing her over to the university police the students, many of whom were males, stripped her naked and physically abused. The dastardly acts were recorded on video tapes and mobile phones and have since been widely disseminated. Among others, they opened her legs wide and some of the students could be seen inserting their fingers into her vagina.
The students, after molesting the victim, handed her over to the police who are investigating the incident. ASP Emmanuel Basin-Tale however told Citi News 'we took Amina to court and she has been granted bail because of her condition but she reports daily to the Police station to assist in investigations'.
BY: Citifmonline