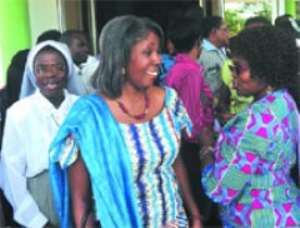 Fifteen per cent of Ghanaian children develop language or speech problems that affect their development and performance, Dr Ebenezer V. Badoe, Director of Neurology/Developmental Services at the Korle Bu Teaching Hospital, has said.
"The situation, therefore, calls for the country's policy makers to identify the needs of such children and incorporate them into the country's health and educational sectors," he advised.
Dr Badoe, who spoke to the Daily Graphic on the fringes of the 2011 International Autism Policies and Practices Conference in Accra, said such a policy, must seriously deal with screening children with language problems in order to develop the appropriate remedies for them.
Autism is a condition that affect children before age three and leaves them unable to form normal social relationships or develop normal communication. A child may become isolated from human contact and absorbed in a world of repetitive activities and interests.
The condition is a debilitating intellectual disability. According to experts, children with autism, when not given proper support from a young age, may never learn to communicate and their potential to become violent increases.
The goal of the four-day conference, organised jointly by the Global Autism Project, Teachers Without Borders and the Awareness, Care and Training Centre (AACT), is to draw mechanisms to advocate on behalf of people affected by autism on a large scale by bringing together teachers, parents, doctors, policy makers, caregivers, among others.
The conference, which attracted more than 150 participants, is also to promote a better understanding of autism and how it affects the lives of West African children and ultimately increase advocacy for children's rights, especially those living with the condition.
The cause of autistic spectrum disorders is not yet clear but expert opinion put it that boys are more likely to be affected than girls, though research suggests that when girls have the condition they may be more severely affected.
While there is no specific or particular medical treatment for autism, appropriate therapy such as speech, language and behavioural therapy are seen as key to managing it.
Dr Badoe called for urgent measures to address the growing number of children with autistic disorders in the country, saying "disability whether we like it or not will impact on the country's population but we never seem to have plans for those with such conditions".
He expressed worry over the fact that much attention is not paid to persons with autistic and its related conditions because ''they do not kill like HIV/AIDS, malaria and other diseases.
He said, records available were not adequate to give a true picture in Ghana, as no large systematic studies had been conducted, but records at the Korle Bu Teaching hospital stood at a total of 120 cases seen over a four-year period.
Opening the conference earlier, Mrs Ruth Addison, National Co-ordinator of Early Childhood Care and Development (ECCD) of the Ministry of Women and Children's Affairs, said as a global issue, the condition must be of concern to all in order to devise strategies to adequately address it.
She said the ministry would continue to support programmes and activities that had the welfare of children at heart and urged participants to share information, knowledge and best practices to promote learning and to complement each other's efforts.
The Founder of ATTC, Mrs Serwah Quaynor, for her part, urged parents not to hide their children with the condition, since the best means of handling such children was to identify their special needs.
She said it was regrettable that some pastors instead of educating members of their churches on the disease rather saw the condition as evil and treated those with it as such.
Mrs Quaynor expressed worry over the increasing blame of such conditions on mothers and urged the public to stop the stigmatisation and help children with such conditions to integrate into society.