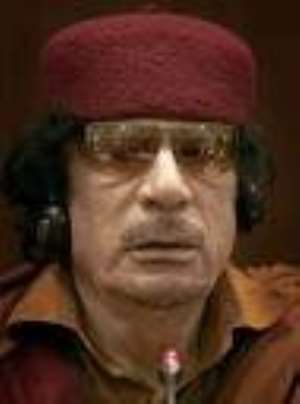 Though I'm still hurt by lack of luck that keeps befalling my team, Chelsea FC, in the champion league as we have been witnessing for the last four seasons, I cannot say the same for Libya leader, Muamar Gaddafi. He brought all this on himself by denying political freedom to his people. Gaddafi survived sanctions through UN resolutions: 731, 748, and 883 imposed on him in 1992, but I don't see him surviving this one. There is a lot at stake here and I believe he knows it. People just want him out for good this time. The rebels have started selling their oil but he cannot because of sanctions. He cannot maintain this situation forever and I think it is just a matter of time before his government falls. Sanctions created more problems for him than even Reagan's military campaign of 1986, and he (Gaddafi) did a lot to get them lifted. So he knows that he cannot survive for longer despite US withdraw from Libya. NATO and sanctions will cripple him more whether US planes are flying in the air or not. That's why Obama is not so worried because he knows that in the long run, Gaddafi will fail to hold on to power. His worry may lie elsewhere in the home politics as it seems the President of USA does not have power under the Constitution to unilaterally authorize a military attack in a situation that does not involve stopping an actual or imminent threat to the nation, but Obama may argue that he was fulfilling the UN mandate.
Libya is not having problems winning its war against the rebels because of the less numbers in the army or its small population. If anything; the Libyan army is about 90,000 in size which is ok if well equipped with modern weapons. Remember, some people keep telling us that Yoweri Museveni started his war with 27 men, a figure I always find hard to believe, because FRONASA had built itself to a size of about 5000 soldiers before it was integrated in the UNLA army. So where were the rest of the FRONASA guys when their leader declared war on Obote after the disputed 1980 elections?
That aside,the Benghazi rebels have not made any successful attempts to drive Gaddafi put of power because they are ill-trained, lack modern weapons and NATO is not yet ready to directly fight the gorund war for them. Gaddafi too is not going to win this war because his weapons are no better than those of coalition forces. Libya posses a lot of Russian made military equipment that needs repair or servicing and they could not do this properly during the period of sanctions. Actually, Russia made more money in selling arms to Libya more than any other country. It is thought that the Russian deals to Libya amounted to over $19billion between 1970 and 1991. Russians were the one that constructed all military and industrial sites that have recently been destroyed by USA and British air forces, and these sites alone cost Libya more than $2billion to be constructed.
After the sanctions were lifted in 1998, Libya got in touch with Russians to see to it that some repairs were done on their military equipment but Gaddafi did not order a lot of new equipment because he still owed the Russians about £3b. Nevertheless, a joint commission on military and technical cooperation was established in 1999 after a visit to Tripoli by Russian Vice premier,Iliya Klebanov. So i believe some repairs were done but Libya's equipment cannot easily match those of USA, France, Britain and other countries bombing it now.
So, winning a war in this modern era is all about military technology, better tactics and organization but not necessarily numbers.For instance, about 300 US well armed soldiers can easily destroy Uganda's army of 50,000 basically because of better weapons and organization. However, Libya's military technology was much weakened during the period of the sanctions. According to the World Bank, the sanctions cost Libya $18 Billion worth of oil revenue. The UN-imposed asset freeze also placed off-limits several billions of dollars in assets, especially the funds Libya held in dollar denominations.
Africa and Gaddafi
All indications are that Gaddafi is going to lose this war and there are a lot of angry faces among African leaders especially those who have been benefitting from the generosity of Tripoli and those who have been in power for a long time. For example, Gaddafi gave Niger a grant of $2m in March 1996 and his relationship with Niger has been strong since. He donated 200,000 dollars to Mali for development and defense in the same year. He has been allegedly financing presidential campaigns of several African presidents including president Museveni. He has been a rock for most African cultural and Muslim leaders for the last three years.He has been financing a lot of cultural and religious projects including our mosque at Old Kampala. He has invested millions of dollars in more than 19 African countries.
He has been the biggest financier of both OAU/AU meetings and so many people will miss his money when he goes. He donated 2 million dollars to the president of Burkinafaso, Blais campaore, as his contribution to organizing the OAU meeting in the early 1990s. He donated 4.5 million dollars to OAU to boost its treasury in 1999. He financed the OAU summit in Togo in 2000 where he called for a United States of Africa (USA) and African Union (AU).His dream of USA has brought him into serious misunderstandings with leaders such, president Museveni, who are against the idea.
Advertisement
Gaddafi's journey of building relationship with the African leaders started before even the sanctions were lifted. He sponsored a lot of rebellions in Africa including Museveni's NRA in Luwero and Mandella's anti-Apartheid war in South Africa. Both leaders have been in his good books for such a long time. For instance, on 17th October, Museveni put on his shoes and jetted to Libya to show comradeship to Gadaffi. He visited Libya again in autumn of 1998 before Congo's Kabila Laurent-desire. Let us remember that it was Gaddafi who financed the over 1000 Chad troops during the Congo crisis. Nelson Mandela also joined the Tripoli bandwagon in the same year (1997) before going back again in November. Just like Nigeria's former president, Abacha, Mandella also awarded Gadaffi with South Africa's highest medal when Gaddafi visited him in South Africa at some point.
Gaddafi is the brain behind the formation of COMESA. Gaddafi convened a meeting of Sahel and Saharan states in 1998 which was attended by presidents of Niger, Malie, chad and Sudan. This summit resulted into the formation of COMESA (Community of the Sahel and Saharan States).
Africans may not have helped Gadaffi much in the current crisis but they surely played a crucial role to get sanctions lifted off Libya in 1998. In June 1998, all African states at the OAU summit in Burkinafaso announced that they would cease complying with the UN sanctions against Libya. UN later agreed to hold a debate on Libya's sanctions on March 1998 after pressure from Gadafi's friends in Africa. In the same month, Libya defied the UN air sanctions by flying100 of its pilgrims to Mecca for Hajji. Because of Africa's solidarity with Gadaffi, his wish for the Lockerbie dispute with US and Britain gave him a breather as the International criminal court of justice ruled that the trial is held in a third state with a Scottish judge presiding.
Overall, Gaddafi will be remembered by most Africans as a ''great'' leader but who denied political freedom to his own people. He supported a lot of revolutions on the continent, but his zeal to turn Libya into a family property, like most African leaders, has let him down. With majority of Libyans on his side, he would have survived this situation regardless of whether the big nations are after his country's oil or not.But as it so happens with most dictators, he has stepped on a lot of toes over time and people are vying for his blood.Sorry,Gaddy! You gonna lose,mate.
Abbey Kibirige Semuwemba
United Kingdom