Gbagbo has 'fewer than 1,000' troops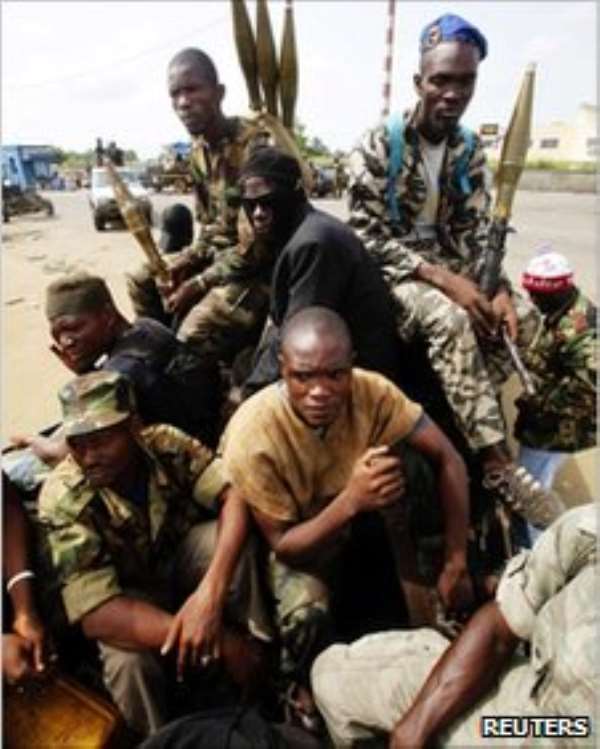 Laurent Gbagbo's rival is thought to have several thousand men

Besieged Ivory Coast leader Laurent Gbagbo has fewer than 1,000 troops left in the main city of Abidjan, French Defence Minister Gerard Longuet says.
He estimates 200 of these fighters are at the presidential residence, where the strongman refuses to stand down.
Mr Gbagbo is encircled by forces loyal to rival Alassane Ouattara, who is thought to have several thousand men.
A BBC correspondent says Mr Gbagbo's senior generals have deserted him, but diehard supporters fight on.
The French defence minister was quoted by AFP news agency as saying: "Today, at the moment, former president Gbagbo's forces are reportedly a bit less than 1,000, including 200 at his residence."
'Israeli rescue plea'
Reuters news agency reports that Mr Longuet also told the Senate in Paris on Thursday that French helicopters had destroyed two pickup trucks of gunmen trying to break into the French ambassador's residence.
French Foreign Minister Alain Juppe says Israel has now asked Paris to extract Israeli diplomats from Abidjan.
On Wednesday evening, French helicopters rescued a Japanese ambassador from the city's diplomatic quarter.
Soldiers exchanged fire with Gbagbo fighters as they whisked Okamura Yoshifumi and his aides to a French military camp south of Abidjan.
Mr Yoshifumi said unidentified gunmen had occupied his home near the presidential residence, firing heavy weapons from the building.
France has had troops in Ivory Coast alongside UN peacekeepers since the country's civil war almost a decade ago.
The BBC's Andrew Harding, who is near Abidjan, says explosions rocked the city overnight.
Heavy weapons and machine-gun fire reportedly rang out again on Thursday.
But there has been no sign of a renewed attempt to storm the presidential residence, like that on Wednesday when pro-Ouattara forces were driven back by Gbagbo loyalists.
Mr Gbagbo insists he won a run-off vote in November, but the Ivorian election commission found he lost and the UN certified that result.
The ballot had been intended to reunite the former French colony, which split in two following a northern rebellion in 2002.
After months of stalling negotiations, forces loyal to Mr Gbagbo's rival last week swept south to Abidjan.
Mr Gbagbo says his rival's troops want to kill him, but they say they have strict orders to capture him alive.
On Monday, French and UN attack helicopters bombarded Gbagbo arms sites in Abidjan, including inside the presidential compound.
Pro-Gbagbo forces had been accused of firing heavy weaponry at UN peacekeepers and into areas of the city that voted for his opponent.
The battle for Abidjan has now been raging for a week and it is unsafe for many of the city's several million people to go outside.
The main banks have been closed for nearly two months and few people have the funds to stock up on food.
The International Criminal Court says it will investigate alleged human rights abuses by both sides during the fighting, which has left hundreds dead.