15-year-old girl trains a cow to jump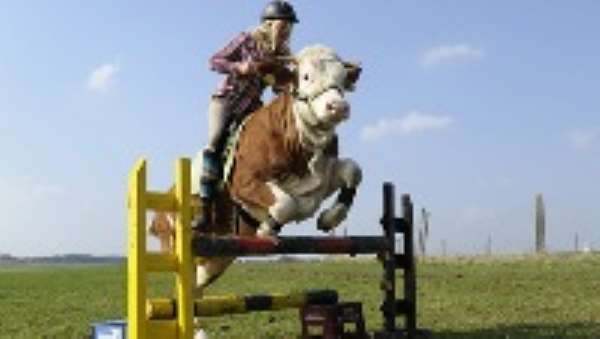 A teenager whose parents refused to buy her a horse didn't give up her dream - she taught a cow to showjump instead.
Hours of training and tons of treats, cajoling and caresses later, the results of Regina Mayer's efforts with Luna are impressive.
The pair regularly go on long rides through the German countryside - and also hurdle over makeshift jumps created with beer crates and painted logs.
Regina, 15, who lives in Laufen, southern Germany, told The Sun: "She thinks she's a horse."
The pals started off with gentle walks after the animal was born on the Mayers' farm two years ago. Gradually Luna became accustomed to human contact and riding equipment.
And six months later, Regina was able to sit in her saddle for the first time.
Now, Luna understands commands such as 'go', 'stand' and 'gallop' - when she feels like it.
Regina said of her first ride: "She was really well behaved and walked normally. But after a couple of metres she wanted me to get off. You could see that she got a bit peeved.
"It's a lot of work, but I enjoy it. When she wants to do something she does it, when she doesn't, she doesn't. And she is often very headstrong but can also be really adorable."