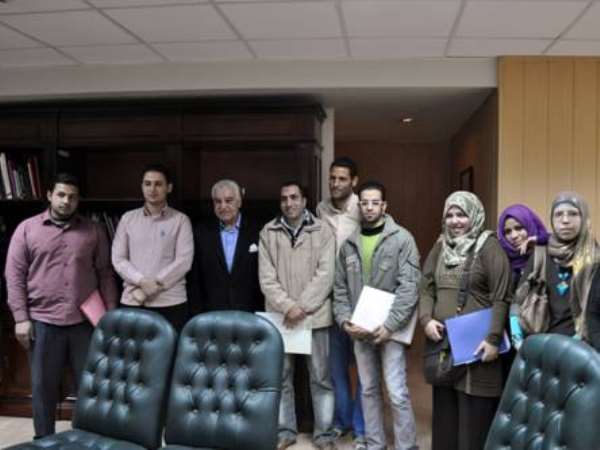 Dr. Zahi Hawass with students after a meeting
All those who thought with his resignation, Hawass was finished and that the question of restitution will now be posed in a new changed context, must be eating their own words. The culture pharaoh, or culture tsar, as some call him, is back in business as Minister of Antiquities Ministry which is independent of the Ministry of Culture and will thus be able to pursue its own policy. (1)
When Hawass resigned we questioned whether the time he choose was right seeing that Egyptian antiquities were in a bad situation, with lootings going on in several museums and archaeological sites. We cautioned those who rejoiced at his resignation that the respite the retentionists had unexpectedly gained would be very short:
"Many Western museum directors may be rejoicing at the resignation and departure of Zahi Hawass from the position of the Secretary-General of the Egyptian Supreme Council of Antiquities. Let them rejoice for the period of respite they have unexpectedly gained will be shorter than they wish." (2)
On his re-appointment, Hawass met representatives the young archaeologists who had protested and picketed the Egyptian Museum, Cairo, because they had no jobs. They received a promise from the new Minister of Antiquities that he would assist by continuing to create more jobs in his Ministry but he also pointed out that the problem of unemployment which is general in Egypt cannot be solved by his ministry alone:
"I also wish to clarify the situation concerning the many young people who have been protesting outside the Ministry of Antiquities Affairs office building, demanding jobs. On the one hand, I am thrilled to see how many young people are getting degrees in archaeology these days; I see this as a tribute to how much awareness among Egyptians of the importance of Egypt's cultural heritage has risen in the past decades. On the other hand, just as it was not possible for the Ministry of Culture to hire all of these recent graduates, it is still not possible for our new Ministry of Antiquities Affairs to hire everyone with a degree in archaeology. The reality is that people from all professions, and from all over the world, need work."(3) The young archaeologists seem to have been satisfied with the explanations they got and according to Hawass, rendered apologies.
Now that Harass is back in business, he hopefully will ensure that the various accusations of wrongdoing on his part will be clarified and his good name re-established. He reports that he has asked the Egyptian authorities to look into the accusations of wrong doing which he dismisses as false.
Another matter which we hope the dynamic and fearless Egyptologist will pursue with his usual vigour is the next Conference on Restitution which he had been preparing before his resignation. The issue of restitution is of great importance to the States that attended the Cairo Conference in 2010 and so we can expect the subsequent conference to be soon. (4)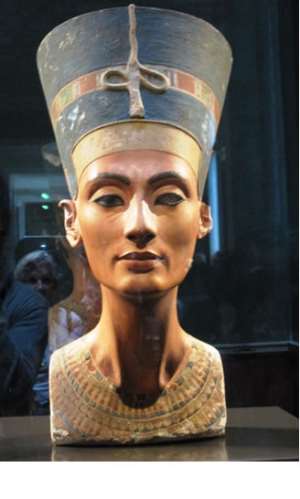 Nefertiti, Egypt, now in Neues Museum, Berlin, Germany

Now that Hawass is a minister, it would be interesting to hear what arguments the Germans would be presenting regarding the restitution of Nefertiti. It would be recalled that the Germans based their refusal last year on the grounds that the letter which Hawass sent should have come from a minister. (5)

When Hawass was invited recently to Paris for the 40th Anniversary of the UNESCO 1970 Convention against the illicit trafficking of cultural property on 15 and 16 March 2011, he was unable to attend but sent a statement to the celebration in which, inter alia, he asked for international support in circulating the list of missing antiquities and also asked the participants to be on look out in case any of the objects appeared on the illicit art market. (6)

Whatever may be said about Zahi Hawass, one fact remains incontrovertible: the famous Egyptologist enjoys his work to which he brings an enthusiasm and commitment that are not common and his skills and devotion to archaeology are undoubted. Above all, his mastery of the mass media and his communications skills enable him to attract large number of tourists to Egypt. (7) The dynamic archaeologist sometimes overstates his point as for example, when he says "I cannot live without antiquities and antiquities cannot live without me." But is there a greater declaration of love than this? (8)

Kwame Opoku, 4 April, 2011.

NOTES
1. Prime minister appoints Hawass antiquities minister
AFP, Egypt antiquities chief becomes minister

Culture Grrl, Hawass Reappointed as Egypt's Minister of Antiquities

http://www.artsjournal.com/culturegrrl/2011/03/news_flash_hawass_reappointed.html

2. K. Opoku, "Restitution and Recent Upheavals in Egypt" http://www.modernghana.com/news/321941/1/restitution-and-recent-upheavals-in-egypt.html

3. Zahi Hawass, "Uplifting News", http://www.drhawass.com/blog/uplifting-news

4. K. Opoku," Reflections on the Cairo Conference on Restitution: Encouraging Beginning,"  http://www.modernghana.com/news/275930/1/reflections-on-the-cairo-conference-on-restitution.html

5 K. Opoku, "Nefertiti in Absurdity: How Often Must Egyptians Ask Germans for the Return of the Egyptian Queen? http://www.modernghana.com/news/314307/1/nefertiti-in-absurdity-how-often-must-egyptians-as.html

6. http://www.drhawass.com/blog/my-address-unesco-convention-fight-against-illicit-trafficing-cultural-property
http://portal.unesco.org/culture/en/ev.php-URL_ID=41546&URL_DO=DO_TOPIC&URL_SECTION=201.html

7. You Tube has many videos of Zahi Hawass among which are the following:

The Search for Anthony and Cleopatra


Hawass Inside the Mysterious Tunnel in the Tomb of Seti I


Zahi Hawass Reveals a Glimpse of the Latest Discoveries in Egypt


The Lost Tombs of Thebes (Featuring Dr Zahi Hawass and Dr Janice Karmin)  


Dr Hawass in the Valley of the Kings: KV64 is going to be discovered! (Part 1 of 2) [


8. Art Info, Post-Revolutionary Egyptian Government Replaces Zahi Hawass With... Zahi HawasS     http://www.artinfo.com/news/story/37362/post-revolutionary-egyptian-government-replaces-zahi-hawass-with-zahi-hawass/

Kate Taylor, "Egyptian Antiquities Minister Returns Less Than a Month After Quitting", New York Times, http://artsbeat.blogs.nytimes.com/