Ivory Coast: Ouattara forces surround Gbagbo in Abidjan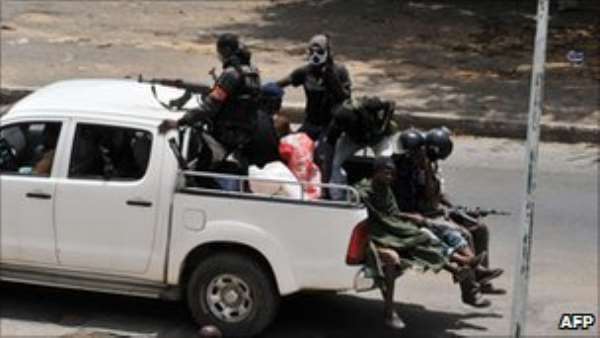 Militiamen loyal to Laurent Gbagbo have been patrolling Abidjan and setting up roadblocks
Forces loyal to the UN-backed president of Ivory Coat, Alassane Ouattara, are pressing on the main city of Abidjan from several directions.
Their offensive threatens to make a battleground of the city, the last stronghold of presidential rival Laurent Gbagbo.
Mr Gbagbo's army chief earlier sought refuge with South Africa's ambassador.
The UN says Mr Gbagbo lost last year's election to Mr Ouattara, but he has so far refused to cede power.
Armed supporters of Mr Gbagbo have been patrolling districts of the city, setting up roadblocks.
The BBC's Valerie Bony in Abidjan says there have been fierce clashes around the national television centre in a residential part of the city, and heavy weapons fire in northern suburbs.
'Game over'
She says an informed source had told her that the head of the military police, Edouard Kassarate, had defected to the Ouattara side and had gone to the Hotel de Golf, Mr Ouattara's headquarters in Abidjan, which had been besieged by Mr Gbagbo's forces.
The UN envoy in Abidjan, Choi Young-jin, told French radio the blockade of the hotel was no longer in place as pro-Gbagbo units had left.
Mr Gbagbo's army chief, Phillippe Mangou, earlier sought refuge at the home of South Africa's ambassador in Abidjan.
Reuters news agency reported that heavy weapons and machine guns were heard firing in central Abidjan, in two districts near the presidential palace - still controlled by Mr Gbagbo's presidential guard.
Other reports say French forces have entered the city, possibly to protect French nationals from any violence.
The head of Mr Ouattara's parallel government, Guillaume Soro, said Mr Gbagbo had only a few hours left in power.
"The game is over for Gbagbo. It is finished," he told Reuters in Yamoussoukro, Ivory Coast's capital.
Restraint urged
The international community, including UN chief Ban Ki-moon and France - Ivory Coast's former colonial power - has urged Mr Gbagbo to immediately cede power to Mr Ouattara.
The US urged both sides to exercise restraint and protect civilians.
US Assistant Secretary of State Johnnie Carson said both Mr Gbagbo and his wife would be held accountable if significant violence broke out.
Mr Ouattara was internationally recognised as president last year, after the electoral commission declared him winner of the run-off vote.
The UN, which helped organise the vote, certified it as legitimate.
However, Mr Gbagbo claimed victory after the Constitutional Council overturned Mr Ouattara's win.
The forces supporting Mr Ouattara have made lightning advances since Monday, moving out from their base in the northern half of the country.
On Wednesday, his fighters captured Ivory Coast's capital, Yamoussoukro, and the key port of San Pedro.
Mr Gbagbo's hometown of Gagnoa has also fallen.
In a televised address earlier on Thursday, Mr Ouattara appealed for his rival's soldiers to join him in order to prevent further suffering.
Since the crisis began in December, one million people have fled the violence - mostly from Abidjan - and at least 473 people have been killed, according to the UN.
An armed rebellion in 2002 split the nation in two - a division last November's elections were meant to heal.