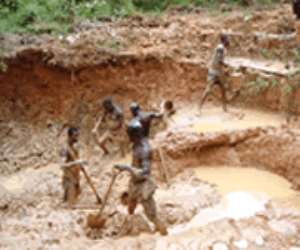 Outgoing MD for AngloGold Ashanti Toby Bradbury is unhappy about the extent of land degradation and environmental destruction caused by illegal mining in the country.
Mr. Bradbury who is exiting by the end of April after a fifteen-month stay says the situation which seems to be getting out of hand has repercussions for environmental sustainability.
"The amount of [illegal] mining that is going on and the destruction that is taking place in Ghana is just devastating," he said.
He said apart from the alarming number of deaths in the illegal mines, the impact of their activities on the environment and water bodies was worrying.
Mr. Bradbury said government must show a lot more political will in dealing with the situation.