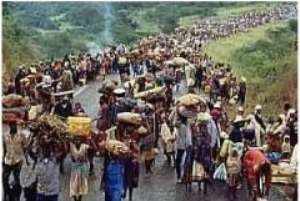 There are over 3,000 Ivorian refugees currently living in Ghana.
The figure, according to the Ghana Refugee Board, is growing by about 60 persons every day.
The refugees are currently being kept at the Ampem refugee camp as the board considers a much bigger site for a more permanent accommodation.
There have been reports suggesting the Ghana Refugee Board is overwhelmed by the numbers.
But Programme Coordinator at the Secretariat, Tetteh Padi says they are very much in control.
"We are not overwhelmed, we are actually looking at upgrading the planning figure from 25,000 to a higher figure and the UNHCR (United Nations High Commission for Refugees) is sourcing funds to assist the refugees that are coming in," he stated.
He said the GRB had been planning in anticipation of the influx of refugees from the troubled country.
Mr Padi said while he conceded many more Ivorians than currently estimated may be in the country, "The Ghana Refugee Board is concerned with people who want to seek asylum based on the fact that they are running from the violence in Ivory Coast."
The over 3,000 refugees are currently living in tents put up by the UNHCR, he told Joy Business editor, Israel Laryea.