Government To Reintegrate Returnees From Libya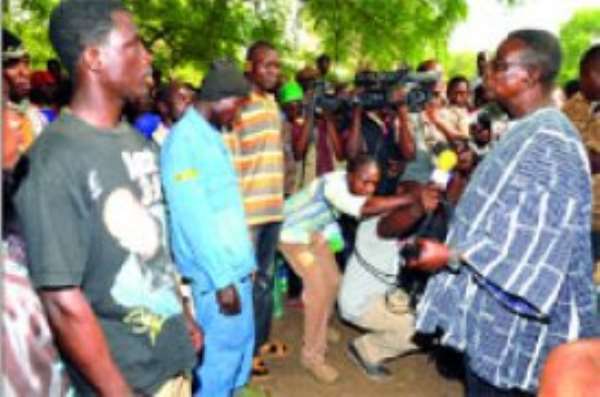 President Mills addressing some Ghanaian returnees from Libya at the Residency in Bolga.
President John Evans Atta Mills has assured Ghanaian returnees from Libya of the government's commitment to reintegrate them into society.
While the government was working out programmes of reintegration, he advised the returnees to utilise their varied skills and talents to contribute to the building of a better Ghana.
The President, who was on a tour of the Upper East Region, said this when he interacted with 63 Ghanaian returnees and two other West African nationals, who had arrived in Bolgatanga after they had crossed the Sahara Desert in their bid to flee the political turmoil in Libya.
President Mills empathised with them and welcomed them to the country.
In the middle of March, this year, 54 Ghanaians arrived safely at Bolgatanga after they crossed the Sahara Desert in three weeks, in their bid to flee the political turmoil in Libya.
After spending two weeks on the life-threatening journey, the returnees became stranded in Niamey, Niger, partly because they were said to have been frustrated by Nigerien border officials.
The 63 returnees constitute the second batch of Ghanaians to have arrived safely, after they had travelled through the Sahara Desert.
The second batch was assisted by the International Organisation for Migration (IOM) to flee Libya to the Nigerien border where Ghana Embassy officials took over, catered for them and secured a bus for them to continue their journey home.
For his part, the Upper East Regional Minister, Mr Mark Woyongo, said Ghana was undergoing transformation in the area of development projects and urged the returnees, most of whom were artisans, to utilise their skills in the development of Ghana.
He encouraged them to stay in the country and work, and resist the temptation of going back to Libya.
A consular officer of the Ghana Embassy in Burkina Faso, Mr Abdul Hanan Zubero, who is handling the movement of the returnees from Niger to Ghana, said the returnees were given between GH¢20 and GH¢40 to pay their fares to their various destinations after the bus hired from Niger had made its final stop in Kumasi.
He said information available to him indicated that more Ghanaians were on their way through the desert and added that this week, another batch of Ghanaians would enter Ghana through the Upper East Region.
More than 16,000 Ghanaians have so far been evacuated from Libya by the government since political violence erupted in the north African country.