Zuarungu-Adakura to get dam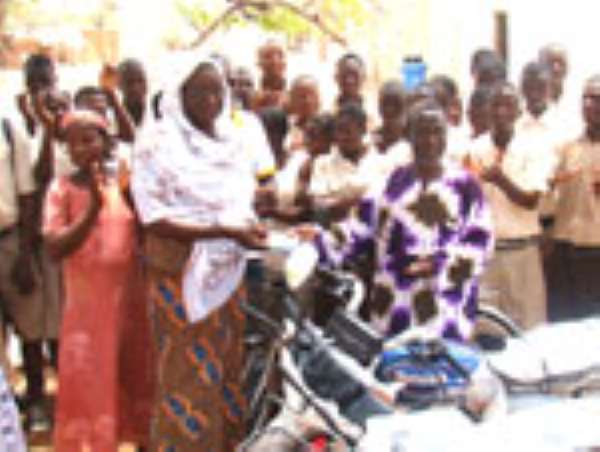 Headmistress of Zorkor SHS, Madam Abubakari Memuna receiving the papers of the motorbikes from Mr. Christopher Azaare, Zorkor SHS PTA chairman
THE struggle domestic animals in the Zuarungu-Adakura area in the go through to get water to quench their thirst, especially in the dry season, would soon be a thing of the past, because work has started on the de-silting and widening of a dug-out into a dam.
The Member of Parliament (MP) for the Bolgatanga Constituency, Akolbire Opam-Brown, who visited the site on the first day of commencement of the project on Wednesday, told journalists that when completed, the dam would serve residents in Zuarungu, Kombosico and Daborin.
Mr. Akolbire explained that the move to widen and deepen the dug-out into a dam was in response to a request by the people of the area, when he went to them to seek their mandate in the last election.
When completed, the dam is expected to collect and store water for domestic animals. It will replace the dug-out which was dug for a similar purpose over the years, but as a result of the increasing population of the animals, became silted and muddy.
The MP said he was using part of his MP's Common Fund, and his share of the Highly Indebted Poor Countries (HIPC) Fund, to widen the dug-out, and raise the banks so that more water can be stored.
Grass would also be grown around the banks of the dam to prevent erosion.
He disclosed that three other areas in his constituency would benefit from a similar project. They are Katanga, Akulpelka and Sumbrungu-Dazongo. The estimated cost of these projects, which are expected to complete in June this year, is GH¢25,000.