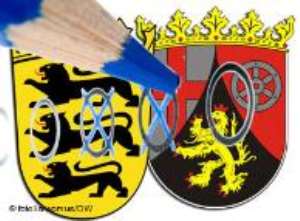 Sunday's two state elections will be closely watched in Berlin

About 11 million Germans go to the polls on Sunday in the most important electoral test of the year. Surveys predict a disastrous showing for Chancellor Angela Merkel's center-right Christian Democrats.
Sunday's elections in Baden-Württemberg and Rhineland-Palatinate are the most important of seven state polls this year, with defeat predicted for Chancellor Angela Merkel's conservative Christian Democratic Union (CDU) and big gains for the environmentalist Greens in both states.
A booming economy and 58 unbroken years in charge may not be enough to prevent the CDU from losing power in one of Germany's biggest states, prosperous southwestern Baden-Württemberg - traditional CDU heartland.
Opinion polls suggest it is the opposition Social Democrats (SPD) and the Greens who will win elections in Baden-Württemberg. Forsa pollsters predict support for incumbent CDU Premier Stefan Mappus could slip to 38 percent, while the SPD and Greens are likely to each win 24 percent of the vote.
The Greens have made big inroads among middle-class voters who normally tend to vote CDU. Green mayors already rule two major cities in Baden-Württemberg and the Greens' party leader there, Winfried Kretschmann, even hopes to become the state's next premier.
Electoral tactics?
Support for the Greens soared last year when the party campaigned against remodeling an 89-year-old railway station in the state capital, Stuttgart, while the CDU pushed ahead with construction despite violent protests.
That support is likely to increase even further in the wake of the Fukushima nuclear disaster. Nuclear power may not be popular in Germany, but many Germans are wary of Merkel's surprise policy flip-flop announcement last week to temporarily suspend the extension of the lifetime of seven nuclear reactors.
To make matters worse, media reports on Thursday said that Economics Minister Rainer Brüderle had told worried business leaders that the government decision on nuclear energy was an election stunt.
While the minister has denied having made the remark, the damage is done, confirming critics' suspicions.
Glum outlook
In western Rhineland-Palatinate, Emnid pollsters have projected 34 percent for the CDU, which would not be enough to dislodge the incumbent SPD premier, Kurt Beck, who has ruled the rural state for 17 years. The SPD is predicted to win 37 percent of the vote, and the Greens could comfortably re-enter the state legislature with a possible 14 percent of the vote.
The outlook is glum in both states for Merkel's coalition partner in Berlin, the Free Democrats (FDP) - they may not even win the 5 percent of the ballot needed to enter state parliaments.
Defeat on Sunday would further limit Merkel's domestic authority for the rest of her term until autumn 2013, by giving the opposition an even greater majority in Germany's upper house, the Bundesrat, which represents state governments.