21 March 2011
|
Africa
Gaddafi 'not a target', says UK military chief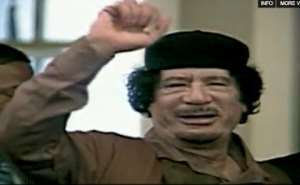 The head of UK armed forces, Gen Sir David Richards, has said Libyan leader Col Muammar Gaddafi is "absolutely not" a target for military action.
He said it was not allowed under the UN resolution which authorises military action to protect civilians in Libya.
But, amid signs of differences over the legal situation, government sources said it would be legal to target Col Gaddafi if he threatened civilians.
US Defence Secretary Robert Gates has warned such a move would be "unwise".
The UK is part of an international coalition, including the US and France, trying to protect civilians from attacks by Col Gaddafi's forces.
During a second night of missile strikes in Libya, Tomahawk missiles were launched from a British submarine in the Mediterranean, but RAF Tornado bombers aborted their mission because civilians were in the area of their target.
UN Resolution 1973 authorises "all necessary measures" short of an occupying force to protect civilians in Libya - but there have been questions about exactly what that could mean.
Amid reports Col Gaddafi could himself be targeted, Gen Richards, Chief of the Defence Staff, told the BBC: "No, absolutely not. It's not allowed under the UN resolution and it's not something I want to discuss any further."
And French foreign ministry spokesman Bernard Valero said targeting Col Gaddafi himself was "not in the resolution" - which was the "legal frame of what is being done": "We can discuss a long time this point. Our commitment is to protect the civilian population, this is being done... and it's what we are going to continue as the priority, it's not to waste time in discussions but to act."
The issue was first raised in an interview with BBC Radio 5 live on Sunday when UK Defence Secretary Dr Fox was asked whether Col Gaddafi himself was a legitimate target.