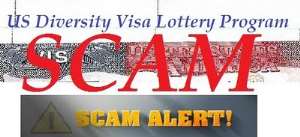 Many Ghanaians have been the target of scams and fraudulent claims regarding the U.S. Diversity Visa lottery program. In these scams, individuals or companies may send congratulatory messages and emails to unsuspecting individuals asking them to pay some monies through the Western Union Money Transfer for a permanent U.S. resident permit or green card. These messages are false or misleading and any person or company making such offers should be treated with the highest skepticism.
The best way to avoid falling victim to these scams is to understand how the U.S. visa lottery result is released:
· DV Lottery 2012: Starting on May 1, 2011 through June 30, 2012, all entrants may check the status of their entry through the Entry Status Check on the E-DV website www.dvlottery.state.gov.
· Entry Status Check will be the ONLY means by which lottery winners/selectees will be notified of their selection for DV-2012. Additionally, Entry Status Check will provide you, the successful selectee, instructions on how to proceed with your application and notify you of the date and time of your appointment for immigrant visa interview.
· The Kentucky Consular Center will no longer mail out notification letters to Diversity Visa selectees. Those selected in the random drawing are NOT notified of their selection by e-mail. The above procedures are explained in the DV Lottery 2012 Instructions.
· The "Selection of Applicants" section of the DV Instructions provides information about the DV time frame and process.
Additional information about the DV program can be found at the US Department of State's website: http://travel.state.gov/visa/immigrants/types/types.