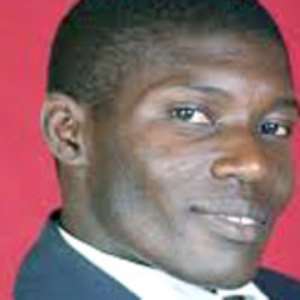 THE National Democratic Congress (NDC) Member of Parliament for Afram Plains North, Emmanuel Aboagye Didieye, has landed himself in trouble as he has been dragged to the Privileges Committee of the House for alleging that about 80 percent of his colleagues are extreme womanizers.
Speaking on Adom FM's morning show yesterday morning, Mr. Didieye indicated that with the exception of female MPs, most of his male counterparts were womanizers who used their resources and money to solicit sex from 'small girls and even married women in the streets.'
According to him, most of his colleague MPs are often seen with young girls popularly called 'awinga' in their cars. This, he said, proved his claim that many of the country's legislators were womanizers.
'My own analysis shows that, the women excluded, about 80 percent of the MPs like women. When you look at most of the male MPs, you will see women in their vehicles and most of them are very young and those girls are not their daughters. I know many but I can't mention their names.'
MPs from both sides of the House who were incensed by the allegations nearly pounced on their colleague, with some even asking him to go for psychiatric a check-up.
The remarks by the MP, who had to flee the House to prevent any reprisals, followed an earlier one he made that teachers' demand for increased salaries was not justified because about 60 percent of them used their money to drink 'akpeteshie,' a locally-brewed alcoholic beverage.
Also throwing some of the dirt at the media, he accused male journalists of leading the same immoral lifestyle as the MPs', using their profession to chase women.
'Because they (journalists) are popular and famous, they use their offices as an advantage in chasing girls. Most male journalists have more than four girlfriends at a time,' the MP further alleged.
Taking himself out of the 80 percent womanizing MPs, Mr. Didieye claimed he had quit chasing women, insisting that most of his colleagues, who he failed to name for 'for security reasons', were on constant sex sprees.
He admitted that when he entered Parliament about two years ago, he was a womanizer until he realized the practice would lead him nowhere.
Describing the comments as pure madness and hallucination, the visibly-infuriated lawmakers asked the Afram Plains North MP to substantiate the claim on the floor of the Parliament or be dragged to the House's Privileges Committee.
Dominic Nitiwul, Dr. Matthew Opoku Prempeh and Joseph Boahen Aidoo, MPs for Bimbilla, Manhyia and Amenfi East respectively, said the allegations of the Afram Plains North MP were of grievous proportions and impugned the dignity of lawmakers and Parliament as an institution.
'For too long, when outsiders denigrate MPs and the House, we shout and drag them to the Privileges Committee, how much more a member of the House? Such irresponsible statements should not come from an MP,' Dr. Prempeh said.
As the MPs were demanding an immediate response from Mr. Didieye, a deputy Majority Whip and MP for Mfantseman East, George Kuntu Blankson, shuttled from one side of the House to the other, trying to calm tempers.
Realising that the MPs would not budge, the deputy Majority Whip rushed to the troubled MP and ostensibly alerted him to flee the House.
He later informed the House that the embattled MP was nowhere to be found as a 'search party' could not trace even his shadows.
Commenting, Majority Leader and MP for Zebilla Cletus Avoka said it was important for members to maintain the integrity and good image of the House but pleaded for time so leadership could get the full facts of the matter to decide if he should be referred to the Privileges Committee.
Giving his ruling, Second Deputy Speaker and MP for Dome-Kwabenya, Prof. Mike Oquaye, who was chairing proceedings, referred the matter to the Privileges Committee and directed that the issue be investigated and reported back to the House within a week.
He said people must not be allowed to say anything about politicians or tell any lie about anybody and get away with it.
'There should be men and women of dignity who want to serve their nation and therefore nobody must make allegations against people without substantiating them,' he stated.
Meanwhile, the beleaguered MP, regarded as one of the reticent MPs in the House, has issued a statement, apologising to all those he had defamed.
'…I did not intend to hurt anybody in anyway neither was my statement meant to hurt the sensibility of anybody. I therefore wish to apologise to anyone who might have felt hurt by my statement. I admit it was an unfortunate statement. I ask my colleagues to forgive me,' said the release.
By Awudu Mahama