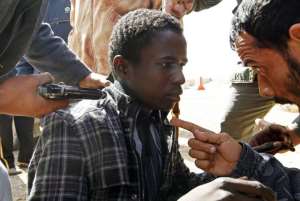 Rebels hold a young man at gunpoint, who they accuse of being a loyalist to Libyan leader Muammar Gaddafi, between the towns of Brega and Ras Lanuf, March 3, 2011. REUTERS/Goran Tomasevic
Within the nooks and creeks, even difficult for the Libyans themselves to find them are most probably black Africans, scared stiff to sneak out of their hide-outs because of the inevitable confusion with "African mercenaries" and facing mob justice. reports coming out indicate that most of these people are living under very precarious conditions which include food and water.
Reports on Al Jazeera show a Ghanaian migrant who claims that black people are being caught, armed and sent to battle front, even though they might not have an idea about what the trigger is even meant for! The effect of the use of "foreign mercenaries", if true, has completely poisoned the budding Libyan Revolution. The real weapon that has been unleashed by Gaddafi is not those miserable mercenaries, but the reduction of the dignity of the Libyan Revolution into an insane xenophobic tantrum. The people of Libya who have aided these Africans to escape, without even asking to be paid, need to be mentioned and thanked and to balance the perspectives, and encourage such positive tendencies still found within the Libyan communities and individuals who do not see all black Africans as mercenaries.
There is no need to allow this to draw a wedge between the democratic forces who are in charge of the on-going struggle to free themselves from the longest ruling dictator in the world. Gaddafi's only olive branch to Pan-Africanism has been under the condition that we crown him as our "King of Kings". So we are not confused at all, and can understand why the good people of Libya would want to get rid of him. But the People's Revolution in Libya, unlike the ones in all the other Arab countries which have so far enjoyed our unalloyed solidarity, is being dangerously diluted with politically toxic and and extremely alarming systematic and sporadic attacks on black African migrants living in Libya.
The Pan-Africanist International was among the first international organisations that cried out as soon as the first violent attack on unarmed protesters occurred:
"We are shocked and horrified by the reckless abandon and the extents taken by the Libyan authorities, including reports of the hiring of foreign mercenaries to kill and maim peaceful protesters by a leader who prides himself as being "democratic" in his own Green Book!
As the third largest supplier of Europe's oil, and by far the biggest customer of Gadaffi, the carnage going on must be clearly condemned and further measures taken to ensure the will of the good people of Libya prevails!"
The International Solidarity Committee of the Pan-Africanist International stands firmly in support of the heroic people of Libya. We stand with them in this great hour of need! We urgently call upon the international community to do something now!" See: http://www.panafricanistinternational.org/
This time we call upon the leaders of civil societies in Libya to urgently take visible steps to restore the right of these Africans to the same human rights they are fighting for, otherwise their revolution is void ab initio. Already, people who never really liked what their limited understanding of what the Libyan revolution represents are furiously presenting all Libyans as racists. We know that this is certainly false. But as stories of harassments continue to pour out, these sentiments would be repeated across black Africa, particularly by those who want to create a wedge and frustrate the Pan-Africanist project.
We call upon Colonel Gaddafi to ensure the safety of black Africans. We believe that just as the Libyan government and the opposition are agreed upon their rejection of US offers of "No Fly Zone", we call upon both sides of the warring parties to reject the maltreatment of foreign migrants who have been living peacefully and working to help improve the Libyan economy and to improve their own lives. We don't see this as a crime. The are your brothers and sisters. They need help. Please help them!
Forward Ever! Backwards Never!!!
Cheers!
–
Nana Akyea Mensah, The Odikro
Member, International Solidarity Committee
of the Pan-Africanist International
Read Stories:
http://rosebellkagumire.com/2011/03/03/a-mercenary-and-an-immigrant-a-story-of-africans-and-libya/A mercenary and an immigrant; a story of black Africans and Libya MARCH 3, 2011
A mercenary and an immigrant; a story of black Africans and Libya
by Rosebell
How do you prove that you are just an immigrant not a mercenary? It's a question I have been pondering on the week and it's a situation that thousands of Africans stuck in the Libya uprising have to deal with, that is if they are given chance.
Sub Saharan Africans had not surfaced much in the story of the protests and revolutions that have swept across North Africa until Libyans decided to take on Colonel Muammar Gaddafi, their leader for the last four decades.
Protests first broke out in Libya on 15 February 2011 and a few days after that the international media got its juicy story of foreign fighters working for Gaddafi. It wasn't long the term 'African mercenaries' came into full use.
To me it was like I was aback to one of my secondary school history classes about events in the 19th or 20th century and stories of African men taken to the fight in "world wars" where they had no idea.
Before the African mercenaries term was coined, there had been the African the migrant. The 'possible mass migration' of Africans to Europe was one of the very first stories about Africans and the Libya protests to hit the international scene. It was about the fear European countries had that Libya, one of the main routes forAfrican immigrants, could pose them a problem if it plunged in state of lawlessness.
Gaddafi who had been helpful in significantly reducing the numbers of African immigrants crossing to Europe through pacts with EU members, then rushed to use this as a bargaining chip as the protests spread. And the African the migrant at this point became both a weapon and a threat. Actually the BBC reporter based in Nairobi said "The fear with Libya is that sub-Saharan Africans will try to leave and there are more of them."
Out of a population of about seven million people in Libya, about one million are believed to be from sub-Saharan African countries. There are no concrete figures. Reports claimed that about three quarters of these Africans are sort of on a waiting list to try by any means to cross to Europe.
After the story of the African -the immigrant, came the African -the mercenary as Gaddafi became increasingly violent and killing hundreds of Libyans. Social networks and twitter were abuzz with words African mercenaries, some with outright racial undertones. Some tweets suggested Gaddafi had "brought Africans to break into their homes and rape their women."
I thought ok, recent African civil wars which have been characterised by rape used as weapon of war have not helped perceptions about the continent that often people want to project! This rape aspect has been repeated in many tweets although we are yet to see reports on actual cases of rape in the international media.
Today I watched Al Jazeera showing a tweet from Redafayr linking mercenaries to 20 African countries where Tamoil, a Libyan petroleum company operates. Today Reuters reported that the rebel National Libyan Council in Benghazi, the insurgent capital said it believed Niger, Mali and Kenya were sending troops to support Gaddafi, who is now directing his forces from Tripoli.
These kinds of statements can only further fuel anger among those opposed to Gaddafi and puts more lives of immigrants held up in houses and other hiding places in Libya at great danger. We have seen reports that indicate dozens of immigrants have so far been killed. These are not deaths inflicted on the 'Gaddafi's African mercenaries' but on African immigrants that have nothing to do with the parties in the conflict.
We have seen slow reaction and attention on international scene and on the part of the African Union and African countries on the mercenary issue. We have not seen bold statements against these xenophobic attacks.
In Uganda we have instead seen a national broadcaster sack two journalists over broadcasting of events in Libya and we don't expect much from government to try and tell the nation that there is no Ugandan Libya as a mercenary. In Zimbabwe, Bob is busy charging anyone who mentions anything close to Libya with treason. It's important that these countries come out and tell the world what is happening.
Kenya has done a lot to evacuate its citizens and others from the East African region. I know that an MP last week called on the country to investigate if young Kenyans who had gone to Islamic schools in Libya might be among the said mercenaries but yet to hear progress. Nigeria is continuing to evacuate its citizens from Libya but many other immigrants from other African countries are still stuck and governments are simply not doing much. I was shocked to see a Ugandan embassy employee saying if it hadn't been for Kenya she would have died in Libya.
U.N. officials have warned that the latest charges from the council in Benghazi could escalate attacks on African migrants in rebel-held areas. We are yet to see the full coverage of the story of the African 'the mercenary' in Libya. We have seen a few pictures that came from protesters but the story is one of the hard ones to get and it will probably take as long as the uprising itself to know the entire story.
While there have been reports of many kind Libyans volunteering to watch over those immigrants that made it to camps, generally many on the continent fear that the impact of racial discrimination not only against immigrants but also black Libyans will continue to be manifested alongside the story of the African mercenary.
We will take long to see a positive story for instance on what African immigrants have contributed to the Libyan economy and how their absence could be felt in either post Gaddafi or post protests Libya. Ultimately the absence of a sub Saharan media will continue to put the African story to hands of foreign media whose plates are often to full too do it justice.
Read more: http://www.bukisa.com/articles/461773_sub-saharan-africans-in-libya-bearing-the-brunt-of-the-uprising#ixzz1FagIm3kY
'Libya hires African mercenaries'
Libya has hired foreign mercenaries from French speaking African countries as crackdown on pro-democracy protesters has intensified, witnesses say.
Three buses full of mercenaries were seen in a small suburb of the capital city of Tripoli and elsewhere, a witnesses told Press TV on Tuesday.
People on the ground also said that mobile phones and the internet are jammed and there are only about 15 Soraya satellite phones among activists for communication.
This is while army warplanes bombed protesters in Tripoli early on Tuesday, according to the reports.
An activist said warplanes and helicopters are "indiscriminately bombing … There are many, many dead."
The North African country is in turmoil since last week after people took to the streets to protest against the rule of Muammar Gaddafi.
In a short appearance on state-run television on Tuesday, Gaddafi rejected reports that he was fleeing to Venezuela, saying that he is in the Libyan capital.
Meanwhile, UN High Commissioner for Human Rights Navi Pillay called for an international probe into Libya's violent crackdown on the protesters.
She also called for an immediate end to "unconscionable violations," warning the Libyan authorities that the systematic attacks against civilians could amount to "crimes against humanity."
UN Secretary General Ban Ki-moon also urged Gaddafi to show restraint and stop the violence against the anti-government demonstrators immediately.
The UN Security Council is set to convene on Tuesday to discuss the latest developments in the embattled nation.