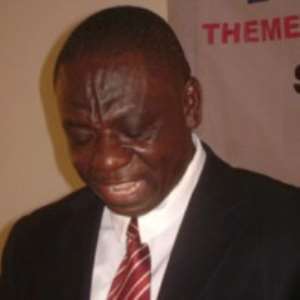 THE ACTING Brong Ahafo Regional Director of Ghana Health Service, Dr Emmanuel Kwadwo Tinkorang has declared a zero tolerance for maternal mortality in the region.
Dr Tinkorang said the region has introduced interventions to reduce high maternal mortality so as to 'achieve our target of zero maternal deaths,' when he addressed participants during a two-day 2010 annual performance review of the regional health administration at Fiapre.
Statistics indicate that Brong Ahafo region saw a decline in maternal mortality last year as it recorded 68 cases as against 94 in 2009, representing more than a 72 per cent reduction.
This, Dr Tinkorang said was very encouraging and a good signal to achieving zero maternal mortality in the region.
'The intervention like the MOU with GPRTU, training of midwives in safe motherhood skills and the provision of emergency obstetric equipment through the high impact rapid delivery approach were contributing factors,' Dr Tinkorang explained.
According to him, the region has established two post basic midwifery training schools to train Community Health Officers to become midwives that will use their skills in communities across the region to reduce unacceptably high maternal mortality rates.
Speaking on the theme for the meeting which was 'Strengthening quality of health care through improved data management,' he underscored the importance of information in today's global world saying 'the theme seeks to create awareness and institute appropriate intervention to improve data at all levels of heath delivery in the region.'
The acting regional director disclosed that Brong Ahafo had not recorded any Guinea worm cases over the past two years.
'The region is gearing up toward certification of the area as Guinea worm free,' he stressed.
He therefore called for the need to strengthen surveillance at all levels especially the Community-Based Surveillance (CBS) system.
He added that the region plans to train CBS volunteers and provide them with community registers as part of the key intervention towards Guinea worm eradication.
Advertisement
Brong Ahafo Regional Minister, Kwadwo Nyamekye-Marfo, noted the critical importance of data integration and data quality in the health care sector. He said patient care can be improved with better data management.
The regional minister explained that data management in health care requires 'taking information from many different systems and lines of the organization, pulling the information together, rationalizing it and providing the harmonized data on time to the enterprise which health care providers could easily access and use to improve patient care.'
There were fraternal messages from representatives of sister organizations and other partners in the sector.
Present was the MP for Oforikrom and member of the Parliamentary Select Committee on Health, Elizabeth Agyeman.
From Fred Tettey Alarti-Amoako, Fiapre