Gaddafi lacks intellectual depth- Kweku Baako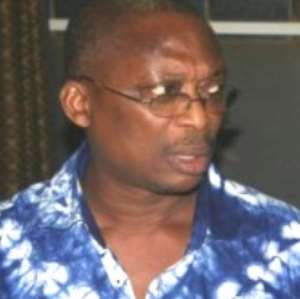 The Editor-in-Chief of the Crusading Guide newspaper, Abdul Malik Kweku Baako jnr. has said it is an insult for anybody to attempt to put beleaguered Libyan president Muammar Al-Gaddafi in the same context as Ghana's first President, Dr. Kwame Nkrumah.
According to him, "Gaddafi lacks the intellectual depth that Nkrumah had" as well as the "kind of commitment" Nkrumah showed towards the unification of the African continent.
Mr. Kweku Baako who was speaking on Joy FM's current affairs programme Newsfile on Saturday said Gaddafi's rise to fame was because "he had money - oil money- [and a] small population. He just was on a trip of self glorification, more or less."
He indicated that "if it comes to the Pan African agenda and the way Nkrumah's Ghana [or] Nkumah himself led the course and the kind of dedication, the intellectual depth that came with it" it was clear that Nkrumah was streets ahead of his North African counterpart, stressing that "[Gaddafi's] was virtually a self glorification exercise and fortunately had the money to back it…and you could see that at the end of the day he was talking about having a King of Kings; Nkrumah wasn't talking that way. Nkrumah meant business."
Mr. Baako further said Gaddafi's Green Book, which to him comes nowhere near the quality of intellectual materials put out by Nkrumah, created a lot of "hell" in Ghana where people were even sent to Libya by the administration to train in the doctrines of Gaddafi's Green Book Philosophy which he describes as a myth.
He describes Nkrumah's books as serious intellectual works that are still relevant in today's world and are used in intellectual discourse the world over.
Deputy Minister of Information Baba Jamal who was on the programme agrees with Kweku Baako, and insisted that the two leaders were clearly not in the same league. "We have a military young man who led an uprising and an intellectual who came through democracy and built a platform so they will be two different things and comparing them will be like comparing apples and oranges," he averred.
He however believes that Gaddafi's book is also relevant in the political philosophy space and cannot be discarded entirely.
A deputy Communications Director of the New Patriotic Party (NPP) Yaw Buabeng who was also a co panelist on the programme said Gaddafi's time is up. "At a certain point and even now, clearly, Gaddafi without any restraints whatsoever had flights of fancy; he had become a megalomaniac, a power drunk individual and he still is," he stated.
He explained that Gaddafi's actions lends credence to the fact that he is daring his population to eliminate him because after 42 years of being in power there is nothing left for him to do.
Mr. Buabeng is of the view that Gaddafi will rather die in the struggle than live in another country as a slave. He believes that the situation in Libya will not drag on for a long time as he foresees an end in sight very soon.
He said "when you turn guns against your people, it tends to have a backlash. The people who you are shooting have relatives and wifes and children and at some point they also turn the gun on you because they don't know when [it will end]. The mercenaries will not survive if the Libyans themselves turn in on them."
Story by Derick Romeo Adogla/Myjoyonline.com/Ghana