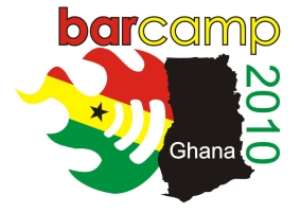 After the successes of Barcamp Kumasi, Barcamp Accra and Barcamp Takoradi, the national event Barcamp Ghana 2010 was held on the 18th of December, 2010 at the Ashesi University campus.. Barcamp Ghana was under the theme ''Create dreams, work smart and shape the future" and it attracted a lot of entrepreneurs, businessmen, students, amongst others. The event was supported by Ashesi University, the World Bank, Meltwater Entrepreneurial School of Technology (MEST), Mobile Web Ghana, Google Ghana, Vodafone Ghana, GhanaThink Foundation, NandiMobile, Busy Internet, Fienipa, TAGH Media, iROKKO Concepts, Imagineers, MyfashionAfrica, etc. The media partners were CitiFm, Radio Universe, ModernGhana, GhanaBlogging and Skyy Digital.
Over 150 participants gathered at the Ashesi University premises to exchange ideas and learn from each other. The event unofficially started at 9:00am with the Start-up Bazaar and registration of participants running concurrently. Start-up Bazaar was premiered at Barcamp Accra held at the Meltwater Entrepreneurial School of Technology (MEST) campus and was popular with attendees there. This was a platform for start-ups to exhibit their products/service to the participants as well as network with other participating start-ups. The start-ups that took part in this session were TAGH Media, etc. There were also stands for Mozilla Firefox and Meltwater Entrepreneurial School of Technology (MEST). Breakfast, provided by Imagineers Limited, was served.
At 10:00am, Barcamp Ghana officially commenced with opening remarks given by the Barcamp Ghana organizing team. The emcee was Kweku Anane-Appiah, a team member. Ato Ulzen-Appiah then spoke about the origins of Barcamp and the a brief history, mission and vision for Barcamp Ghana. For Barcamp Ghana 2010, there were no keynote speakers or panels and only breakout sessions. Patrick Awuah, the founder and president of Ashesi University, then gave a welcome address. Some of his soundbites included "There should come a time that citizens in Africa will not desire to migrate to Europe or the USA". An agenda building session to map out the breakout sessions for the day followed.
The first set of breakout sessions were organized for 90 minutes from 11am. Citizen journalism versus Traditional Journalism was led by Bernard Avle - award-winning host of the CITI FM Breakfast show, Mac-Jordan Degadjor and Oluniyi David Ajao - popular bloggers based in Ghana. Issues discussed included Citizen journalism in its purest form is blogging, community radio as citizen journalism, regulation of blogging, 75% of Ghanaians having radios versus reading the newspapers and being online, local content and bloggers building their credibility, etc. Sherrie Thompson of Solutions Africa and Golda Addo of Energy Solutions Ghana led a session on green power and alternative energy. Biodiesel and biodigestion facilities were discussed as well as various forms of alternative energy.
Farida Bedwei of G-Life Financial Services, Afua Ankomah of Esoko and Daisy Amma Baffoe of MEST led the Women in ICT breakout session. Challenges with getting Ghanaian women to build applications and be in ICT were discussed. Attendees in the session decided to create a a "Women In ICT" Facebook page to take advantage of the many Ghanaian women on Facebook. Patrick Awuah, one of the most respected leaders in Ghana, also organized an impromptu session on leadership. Lunch followed, the food was provided by Imagineers Limited, which also provides food at Ashesi University's Building 1. During lunch, Nana Manu of Vodafone Ghana gave a speech on e-commerce and building an accepted payment system for Ghana. He also talked about http://theideascout.com/.
The second set of panel sessions started after lunch. Leila Djansi, director of award-winning movies I Sing Of A Well and Sinking Sands, Deborah Ahenkorah of Golden Baobab, and Obed Sarpong of the Writers Project of Ghana led a session called 'Telling African Stories' on movies and writing in Ghana. Nana Awere Damoah, writer of Excursions in My Mind, also came by the session. Among issues discussed were defining the African story, animating Ananse stories, amongst others. It was decided upon to start a blog where African stories would be told.
There was a World Bank sponsored session about the Apps For Development Challenge. Richard Murby who is part of the organizers, did a Skype video conference with Barcamp Ghana attendees from Washington, DC. He did a presentation on the competition and attendees asked him questions. DK Osseo-Asare of AnamCity spoke about the Anam New City sustainable building/development project in Nigeria. Anam City is a new model for sustainable development in Africa. Kweku Anane-Appiah led a breakout session on fashion and wear in Africa. Ronke Ampiah and Farida Alabo of Smiles for Christmas led a session on volunteerism. Attendees decided to start a website for finding volunteer opportunities in Ghana.
The third set of breakout sessions rounded out the day at Barcamp Ghana 2010. Oluniyi David Ajao led a breakout session on blogging. Challenges facing bloggers like poor internet connectivity, creativity (presentation) and work schedule were discussed. Charles Odonkor, a medical student at Yale University, organized a breakout session on brain power called "Declaring the decade of the brain". Farida Bedwei who has cerebral palsy but is a renowned software programmer in Ghana shared her story with participants in this session. Florence Toffa of Mobile Web Ghana and Kwamena Appiah-Kubi of Mozilla Firefox led a session on Mobile Web applications.
The event run smoothly and the attendees relished the Barcamp experience. They praised the good turn out, brainstorming involved and relevance of information shared. It was important for the discussions to be documented. A list of relevant tweets from the Barcamp will be online soon. Various action items and plans were discussed at the Barcamp and as they are implemented, will be publicized. More info from and about Barcamp Ghana 2010 will be available on the Barcamp Ghana website http://barcampghana.org.