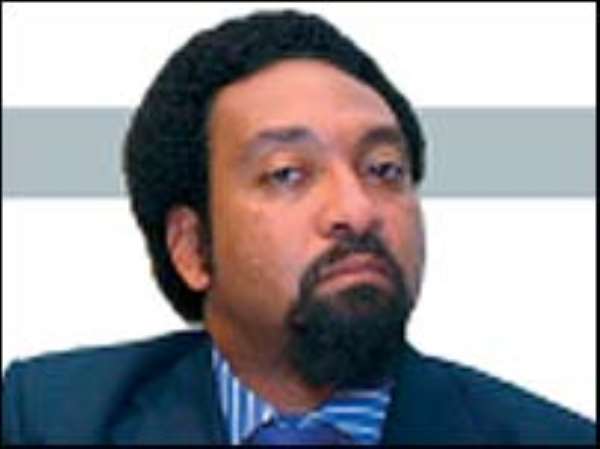 Gamal Nkrumah
I was quite amused to read about the recent interview that Mr. Gamal Nkrumah granted Mr. Paul Adom-Otchere of Ghana's Metro-TV (See "Gamal Nkrumah: Mubarak Must Go…But Power Should Not Be Given to ElBaradei" (Peacefmonline.com 2/2/11). What particularly amused me was the following quote from the half-Egyptian son of Ghana's flamboyant first president and self-knighted "Life-President": "The West should…accept [the fact] that the people of North Africa and the Middle-East desire more democracy and desire to elect leaders of [their own] choice [choosing?] and not leaders that suit Israel or leaders that serve Israel's interest."
The foregoing quote, naturally, amused me because when it comes to a critical and dispassionate assessment of his own father's regime of the erstwhile Convention People's Party (CPP), Mr. Gamal Nkrumah has not the least bit played the role of the sort of salutary democracy advocate that he now seems to have assumed in the wake of the raging popular agitation for the resignation and exiling of President Hosni Mubarak.
Rather, we have witnessed a filiopietistic Mr. Nkrumah hopping from country to country and one corner of the globe to the other vociferously decrying and denouncing the "wrongful" and "visionless" overthrow of his father. Scarcely discussed is his father's one-party autocracy and the untold and flagrant abuse of the human rights of unsuspecting and innocent Ghanaian citizens.
Indeed, it was primarily for the foregoing reason that during the late 1980s when he visited the City College of New York, where I was an undergraduate student, I had to reflexively and unreservedly boycott his lecture on Ghanaian and African politics.
On another quite equally significant level, my decision to stay away from his lecture had far less to do with either my personal attitude towards the younger Mr. Nkrumah or any palpable qualms that I might have had vis-à-vis his single-minded and near-fanatical defense of his late father's considerably tainted political record. Rather, it had more to do with the pathological mindset of the faux-Black nationalist faculty of City College's African-American Studies Department who had invited him.
In simple and plain terms, I was not in the mood for a side-show debate with a bunch of self-styled intellectuals and "scholars" of modern African politics who had neither lived and experienced the primeval continent's political culture for any remarkable length of time, nor even learned to speak any of our major languages beyond "How are you?" and yet, curiously, felt rather self-assured of their individual epistemic authority on African history and culture.
Anyway, throughout his adult career as a journalist with an axe to grind with the perceived opponents and detractors of his father and his neo-Fascist CPP government, Mr. Nkrumah has preponderantly highlighted the pan-Africanist credentials of "Osagyefo-Dr." Kwame Nkrumah. So, logically, one begins to wonder why the younger Mr. Nkrumah has, this time around, conveniently chosen not to equally highlight the positive aspects of the Mubarak government which, fundamentally, is not very different from that of the CPP.
In essence, if he really believes that the Egyptian people deserve to have the kind of democratic culture that President Mubarak could never afford them, then, really, what Mr. Gamal Nkrumah ought to be about and doing is to be profusely thanking the gallant men of the Ghana Armed Forces and the Ghana Police Service, led by Messsrs. Kotoka, Harlley and Afrifa, who engineered the auspicious and timely ouster of President Kwame Nkrumah and his so-called Convention People's Party on February 24, 1966.
For just like the Egyptian people in the year 2011, by the eve of his landmark ouster, Ghanaians had become fully convinced that neither his stentorian and theatrical advocacy of pan-Africanism nor his pontifical call for a functionally progressive, and productive, federalization of the African continent could be actualized through President Nkrumah's institutionalization of a one-man, one-party dictatorship.
In brief, if President Mubarak deserves to be accorded the heave-ho, then so did President Nkrumah some forty-four years ago! For, after all, doesn't one good turn deserve another?
*Kwame Okoampa-Ahoofe, Jr., Ph.D., is Associate Professor of English, Journalism and Creative Writing at Nassau Community College of the State University of New York, Garden City. He is a Governing Board Member of the Accra-based Danquah Institute (DI) and the author of "The Obama Serenades" (Lulu.com, 2011). E-mail: [email protected]