Egypt's Mubarak faces 3rd trial over protester murders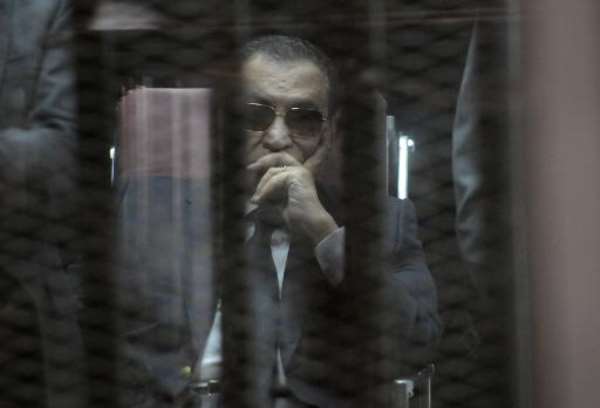 Ousted Egyptian president Hosni Mubarak sits in the defendant's cage during his verdict hearing in a retrial for embezzlement on May 9, 2015 in the capital Cairo. By - (AFP/File)
Cairo (AFP) - Egypt's former president Hosni Mubarak must stand trial for a third time over the deaths of hundreds of protesters during the popular uprising that ousted him, a court ordered Thursday.
Mubarak, 87, ruled the country for three decades before he was forced from office in 2011. The following year, he was convicted over the deaths and sentenced to life in prison.
But that verdict was appealed and a new trial ordered. Last November, the judge in the case dropped the charges.
The prosecution appealed that ruling, and the Court of Cassation overturned it Thursday, ordering a new trial.
But it upheld a decision by the trial judge in November to acquit Mubarak's former security chiefs, who had faced the same charges.
Judge Anwar el-Gabry said the "court accepts the appeal of the prosecutor and will take up the case on November 5".
Mubarak's defence team said it was not clear if that meant an actual trial would commence then, or if the court would issue a new verdict.
The November decision sparked an outcry among the opposition, which has been targeted by a sweeping government crackdown since then army chief and current President Abdel Fattah al-Sisi ousted his Islamist predecessor Mohamed Morsi in 2013.
Youth leaders who spearheaded the anti-Mubarak revolt have also been jailed on charges of illegal protest over the past year.
The official death toll during the 18 days of protest that toppled Mubarak stands at 846.
In the months following his resignation, the interim military rulers rounded up many of Mubarak's former subordinates and police commanders and put them on trial, under pressure from protesters.
- Military hospital -
Most of them have been acquitted, but the courts have handed down harsh mass sentences to Islamists, including Morsi himself.
The Islamist leader was sentenced to death on May 16 with more than 100 others for plotting jailbreaks and attacks on police during the 2011 uprising.
A court will confirm or commute that verdict on June 16.
For months now, Mubarak has been held in a military hospital in Cairo.
Last month he was sentenced with his two sons, Alaa and Gamal, to three years in jail for corruption.
A few Mubarak supporters who were in court Thursday held posters of him and started cheering as the judge announced the sentence, mistakenly thinking he had finally been acquitted.
"This is unfair -- Mubarak is a hero. He should be honoured, not put on trial," Abeer Lotfy, wearing a necklace with a pendant picture of Mubarak, told AFP.
Outside the central Cairo courthouse, several Mubarak supporters confronted a demonstrator welcoming news of the retrial and slapped him, an AFP photographer reported.
Police intervened to separate them.
Among the seven Mubarak co-defendants whose acquittals were upheld Thursday was his once-feared interior minister Habib al-Adly who ran the security service with an iron grip.
Sisi has previously distanced himself from Mubarak and figures from his regime.
However, rights groups accuse the former field marshal of establishing a more repressive regime than that of Mubarak, whose rule was characterised by widespread extra-judicial executions and human rights violations carried out by the security apparatuses.