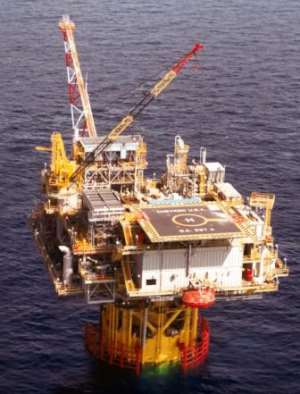 "Oil is money and we need money to do the schools, the roads, the hospitals. Even without oil, we are doing so well already. Now, with oil as a shot in the arm, we are going to fly."- Former President J.A. Kufuor.
The turning on of the Jubilee Field's oil taps by President J.E.A. Mills on December 15, 2010 symbolises the official commencement of commercial oil production in Ghana, after over a century of oil exploration.
It is within our rights, as well-meaning Ghanaians, to articulate our suggestions as to how oil revenue should be utilised for the benefit of Ghanaians.
Reasonable suggestions, needless to say, can only be made with proper reference to Ghana's current economic situation.
Ghana is described by the CIA World Fact Book as having "roughly twice the per capita output of the poorest countries in West Africa" and "heavily dependent on international financial and technical assistance".
This situation is different from what existed after independence in 1957 when, according to available statistics, Ghana was the richest country in sub-Saharan Africa and had the best educated population. The country was the world's largest exporter of cocoa, it produced 10 per cent of the world's gold, it had diamonds, bauxite, manganese and a flourishing trade in mahogany.
Ghana's income per capital was roughly equal to that of South Korea: $1,274 to $1,276 (in 2009 dollars).
Today, South Korea boasts a per capital income of $28,100, a GDP of $1.362 trillion, an unemployment rate of 4.1 per cent, inflation rate of 2.8 per cent, foreign exchange and gold reserves of $245.9 billion and an annual budget revenue of $191.5 billion.
Ghana, on the other hand, can only manage a per capital income of $1,500, a GDP of $35.99 billion, an unemployment rate of 11 per cent, inflation rate of 8.58 per cent , foreign exchange and gold reserves of $3.165 billion and an annual budget revenue of $4.293 billion.
The preceding juxtaposition of Ghana's economic statistics to those of South Korea indicates that while South Korea has transformed into an economic powerhouse, Ghana has had a phenomenal fall from grace in respect of economic development.
Fifty-three years after independence, the country continues to grapple with huge problems of poverty, unemployment, diseases, infrastructural backwardness, illiteracy and food insufficiency. This, agonisingly, is in spite of the numerous mineral resources the country possesses.
Till date, all attempts at developing Ghana economically have been futile.
Expectations
Ghana's oil discovery in 2007, as well as its subsequent exploitation in 2010, has invigorated the will of Ghanaians and the political leadership to develop the country economically.
Ghanaians have huge expectations of the benefits oil brings the country. The belief is unwavering that oil exploitation will lead to job creation, poverty reduction, infrastructural development and general economic development. This belief is held by not only ordinary citizens but also some of our highly esteemed leaders, including former President Kufuor who indicated immediately after Ghana's oil discovery that oil would give a major boost to Ghana's economy:
''Oil is money, and we need money to do the schools, the roads, the hospitals. If you find oil, you manage it well. We are going to zoom accelerate and if everything works, which I pray will happen positively, you can come back in five years and you'll see that Ghana truly is the African Tiger in economic terms for development," he added.
Another believer in oil's capability to transform the country is the current Minister of Finance, Dr Kwabena Duffuor, who affirmed that "in 10 years' time Ghana will be a very prosperous nation".
He went on, "We will be a an oil exporter, doing very well in gold mining and with a strong financial sector — we will have a very buoyant economy.''
The President of the Republic, Prof J.E.A. Mills, has, time and again, affirmed that oil will be used to ensure the transformation of the national economy into a prosperous industrial nation.
Oil Opportunities
Ghana's estimated 1.6 billion barrels of oil is small, relative to Libya's 47 billion barrels and Nigeria' s 37.5 billion barrels. And only responsible management of oil revenue will see the majority of Ghanaians benefit from the resource.
In the opinion of this writer, oil does not provide the cure for Ghana's economic woes. What oil does provide is a new opportunity to develop the country economically by investing oil revenue in key sectors of the economy, especially the educational and agricultural sectors.
Education
In a country where literacy stands at only 57.9%, the need to prioritise education cannot be overemphasised. The economic success of countries such as South Korea and Singapore, where literacy stands at 97.9% and 92.5%, respectively, is enough indication that countries thrive where they invest in their people.
The Education Ministry is reportedly seeking GH¢1,983,217,447 for its operations in 2011. This amount, though significant, may not be adequate to effectively tackle the huge challenges confronting the sector.
Ghana has had a phenomenal decline in educational standards over the last couple of decades. The educational system that produced prominent intellectuals such as Prof Mills, Bosumuru Kofi Annan, Prof Frimpong-Boateng, Amissah-Arthur, Mrs Justice Bamford-Addo, Mrs Justice Georgina Wood, Mr Justice Emile Short and Mr Ransford Tetteh no longer exists.
The lack of educational infrastructure and facilities continues to be the chief bane of the sector. Several 'schools-under-trees' still exist in the country and many schools continue to lack essentials such as textbooks, computers and libraries. In our secondary and tertiary institutions, the lack of hostels and lecture halls is glaring.
Basic public schools, more so those in rural areas, are the worst affected. It has to be said that most of the children these schools produce are poor academically. We continue to hear news of several basic schools in this country scoring 0% in the BECE every year. These children fail not because they aren't intelligent but partly because they are being taught by unmotivated and, in some cases, lazy teachers who don't give their all.
There is also the problem of inadequate educational personnel such as teachers and supervisors, a situation which exists mainly due to the poor conditions of service for educational personnel, particularly those in deprived areas of the country.
Some of our oil money should be expended on addressing all the foregoing problems.
There should be assiduous attempts on the part of the government to drastically improve the quality of education in our schools, particularly those in deprived areas.
The provision of educational infrastructure and significant improvement in the conditions of service of teachers are two issues government should prioritised.
Needless to say, a good educational sector will produce intelligent individuals who will not only improve the country's workforce but also take advantage of existing opportunities, especially in contemporary science and technology, to drive forward the country's economic growth. If Ghana succeeds in attaining 90 per cent literacy within 20 years, the problems of unemployment and poverty will be greatly reduced, especially when the country has a vibrant private sector that is in dire need of capable human resource.
Agriculture
Though available statistics estimate that 56 per cent of Ghanaians are into agriculture, the country is still not capable of feeding itself. Ghana spends billions of dollars annually in importing foodstuffs to complement what is produced locally.
This shameful situation led the US President, Barrack Obama, to state: "I want to see Ghanaians not only self-sufficient in food, I want to see you exporting food to other countries and earning money.''
If economic transformation is to be achieved, a significant portion of oil revenue would have to be invested in agriculture to drastically improve the country's food production over the long-term, first for local consumption and then for export. It is important that agriculture is not allowed to decline mainly because the country has found oil.
Ghana has a suitable environment for farming and so it is consternating that the country continues to import basic foodstuffs. Available statistics indicate, for example, that in 2009 Ghana imported almost $500 million worth of rice.
Countries such as Malaysia and Indonesia have become far more economically advanced than Ghana partly because they have taken agriculture seriously. Both countries are aggressively involved in palm oil production. In 1995, Malaysia was the world's largest producer, with 51 per cent of world production. Since 2007, Indonesia has emerged as the world's largest producer of palm oil, producing approximately 50 per cent of world palm oil volume. Ghana can follow in the footsteps of these countries by developing a coherent long-term development plan for the agricultural sector backed by massive financial investment in the sector.
The success of cocoa could be replicated with palm oil, where palm oil would be grown on a large-scale for export. A palm oil board could then be set up to market the product. This and other massive agricultural investments should set the tone for Ghana's economic transformation.
The government doesn't necessarily have to set up state or community farms (although the National Service Secretariat deserves special commendation for venturing into agriculture in a bid to increase Ghana's food production). The responsibility of government will be to, among other things, provide soft loans for small-scale farmers to help them venture into mechanised agriculture; provide agricultural materials and equipment such as tractors, combine harvesters, pesticides, weedicides and fertilisers for farmers at subsidised costs and provide storage and processing facilities across the country to help reduce post-harvest losses of perishable foods such as tomato.
The government should also encourage private organisations to venture into agriculture by offering them tax reliefs. The study of agriculture in tertiary institutions across the country should also be aggresively encouraged.
It ought to be acknowledged that the introduction of an agricultural fund in government's 2011 budget aimed at making available additional funds to farmers, as well as expanding irrigation facilities, is a step in the right direction.
The incontrovertible consequence of all the foregoing is that Ghana will not only become self-sufficient in food production; the country will also be capable of exporting food such as rice, palm oil, maize, yam, cassava and so on, thereby securing some vital foreign exchange.
Conclusion:
Oil provides Ghana with revenue to undertake development projects across the country and it is important that the government is responsible in the utilisation of this revenue.
Development that will benefit ordinary people such as improvement in health services, the provision of basic social amenities and the construction of dams, roads, railways and bridges should be prioritised, alongside the improvement of education and agriculture in the country.
The argument could be made that Ghana's estimated $580,000,000 annual oil revenue is insignificant, in view of the huge amount it will require to undertake the aforementioned developmental projects. It ought to be acknowledged, however, that Ghana's oil can be collaterised to secure loans for those projects.
Ghana has already collaterised oil in return for money to build houses and this writer reckons the country will be willing to do more to provide good health care and quality education for the citizenry.
By Samuel K. Obour
[email protected]