Auditor-General exposes gross maladministration in public sector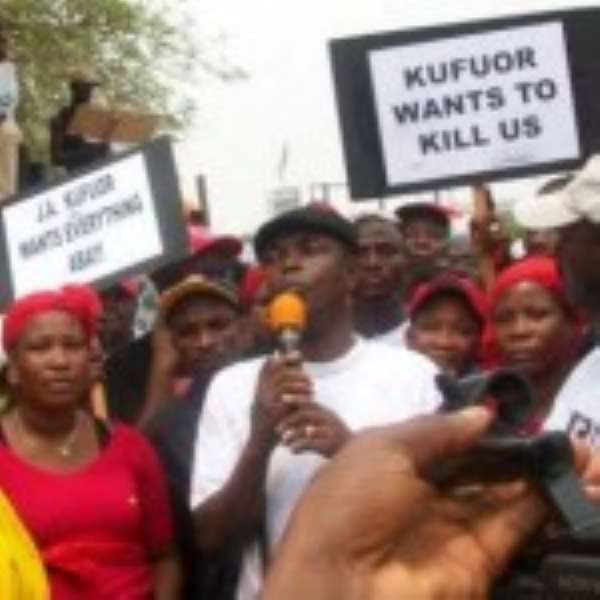 January 27, 2011
Accra, Jan. 27, GNA - The Committee for Joint Action (CJA) on Thursday frowned upon incidence of gross misappropriation of state resources in some government Agencies, Ministries and Departments leading to huge losses in financial resources.
It said such incidence were unacceptable and must be delved into by government to prevent recurrence.
The CJA, at a press conference in Accra, called on President John Evans Atta Mills to make a difference by insisting on the institution of stringent measures to recover all stolen money and misplaced assets.
"We ask that the loopholes be sealed by tightening laws regulating the utilisation of public funds and ensure that they are rigidly adhered to in order to protect the public purse," he said.
The Committee's reaction was based on the Auditor-General's Report on the Public Accounts of Ghana for 2009, which made significant findings including irregularities arising out of major breakdown of internal controls over tax administration, cash management, non-collection of debts and procurement irregularities, among other things.
It indicated that though the Committee had over the past five years consistently drawn attention to what was revealed in the Auditor-General's report every year, the same problems kept recurring.
Mr Kwasi Adu, a member of the CJA, who read a summary of the Auditor-General's Report, said the frustration of the Department was outlined in a statement in the 2009 report which said:
"The irregularities have been recurring and they run through my report annually, a situation which I continue to find very disturbing. Finding lasting solutions to the problems can save the nation millions of cedis improve service delivery to taxpayers and strengthen public confidence and trust in the accountability process within the public sector."
He said according to the report irregularities arising out of a breakdown of internal controls, cash management, non-collection of debts, procurement irregularities, unsupported payments and store irregularities, misappropriation of cash and payment of un-earned salaries were identified.
Mr Adu said the report also contained payroll overpayment from the Ministry of Foreign Affairs amounting to about GH¢2.49 billion, as a result of payroll irregularities in some of the Embassies where there were failures to promptly delete the names of staff who no longer worked with these Missions. This represented 90.3 per cent of irregularities in the public sector.
He said the report also revealed losses totalling GH¢11,993,035 within the jurisdiction of the Ministry of Finance and Economic Planning.
Mr Adu said the Ministry had no clear policy guidelines to regulate the payment of allowances to officials working with Ministers of the Ministry, arguing that these officials worked overtime and on some weekends and were granted monthly allowances pegged at the dollar rate, which amounted to more than their gross monthly salaries.
Other Agencies such as the Value Added Tax, and the then Internal Revenue Service and Customs, Excise and Preventive Service had all been faulted as they failed to collect taxes owed to government by corporate organisations.
He said the CJA believed that the President could use his office to effect major changes by first tackling institutional problems which make theft and waste of public resources possible.
GNA