Nelson Mandela in hospital: Tight South Africa security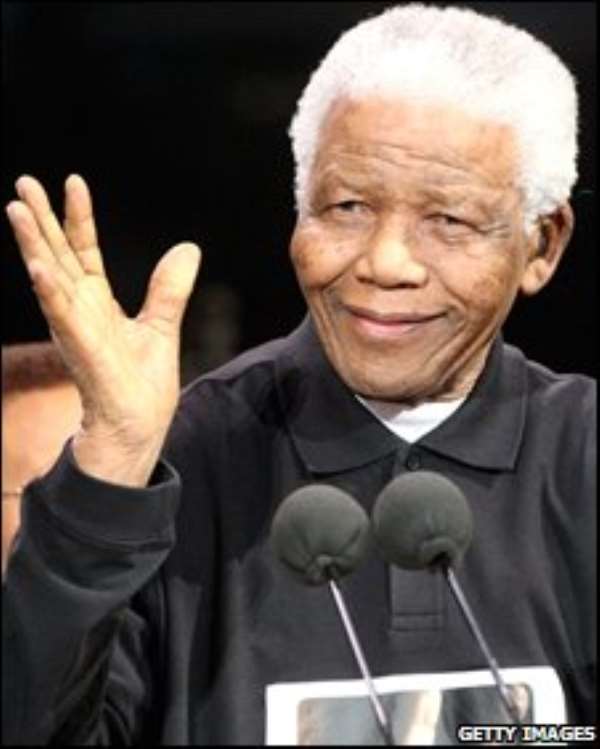 Local school children urged Mr Mandela to get well soon

Security has been tightened at a South African hospital amid speculation over the health of former President Nelson Mandela, who was admitted on Wednesday.
Police were called to control traffic at the Johannesburg building as a scrum of journalists grew outside.
His foundation said Mr Mandela, 92, was merely undergoing routine tests.
The ruling ANC party called for calm, urging South Africans "not to press any panic buttons".
Children at a local school have hung messages of support outside the Milpark Hospital.
Speculation
The South African liberation hero - known affectionately among South Africans by his clan name, Madiba - has appeared increasingly frail on his infrequent public appearances since retiring from public life in 2004.
His last public appearance was at the football World Cup closing ceremony last July.
Privately his friends have warned that his health has begun to deteriorate more rapidly in recent months, says the BBC's Andrew Harding in Johannesburg.
Media speculation about his health is increasingly frenzied.
Police are checking visitors' cars at the hospital entrance to make sure there are no journalists hiding inside.
Journalists' cars were lining the streets and snarling up the traffic, prompting irate outbursts from other drivers, reports said.
Several of Mr Mandela's family members, including his wife Graca Machel, were seen visiting the hospital on Wednesday night.
In a statement on Wednesday, the Nelson Mandela Foundation insisted Mr Mandela was "in no danger and is in good spirits".
It said he was undergoing routine tests, though South African media report he is being seen by a lung specialist.
"He is a 92-year-old and will have ailments associated with his age and the fact that he stayed the night should not suggest the worst," the African National Congress spokesman Jackson Mthembu said on Thursday.
"We urge people not to make unfounded statements, let's remain calm and not press panic buttons because there is no reason to do so."
He said any change in Mr Mandela's circumstances would be communicated.
Earlier this month, a report circulated on social network Twitter that the elder statesman had died.
It was condemned as malicious and insensitive by the ANC.