Big demos hit Accra, Kumasi: (Updated)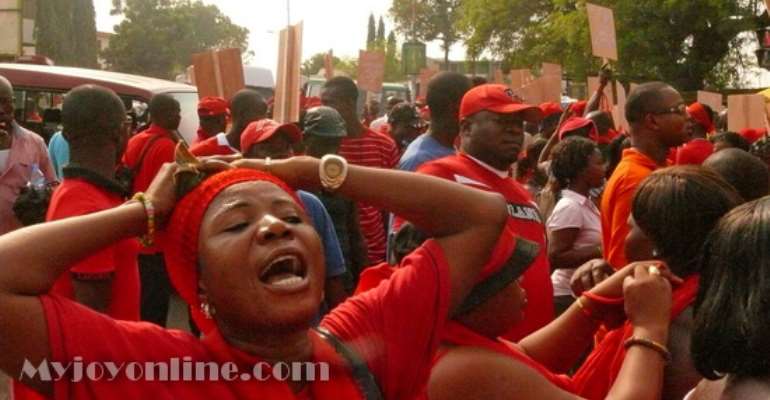 Two groups with varied affiliations and interests simultaneously hit the streets in Accra and Kumasi respectively with contrasting demands of government, amidst minor controversies, Wednesday.
In Accra, Police came to the rescue of a man who poured water on red-clad protesters of the Alliance for Accountable Governance (AFAG).
The man is reported to have splashed the water on the demonstrators at the precincts of the Works and Housing Ministry in Accra and then took to his heels.
He was given a hot chase by some of the demonstrators, with the police detachment coming in handy to avert what could have been a sad point in the largely peaceful march.
His motive was not known.
The AFAG demonstrators were protesting against recent hikes in fuel prices and worsening living conditions.
The demonstration was dubbed "Ahokyere" demonstration.
One of the organizers, Martin Adjei Mensah told Joy News he was overwhelmed by the turnout, calling it a testimony of the harsh conditions Ghanaians were enduring under the Atta Mills government.
He expressed hope that the demonstration would force a rethink of government's policy direction.
In a counter demonstration in Kumasi dubbed the "Anigye" demonstration, Luv FM's Elton John Brobbey reports that over one thousand protesters joined in a march called by the Movement for a Better Ghana and poured onto the streets agitating for the prosecution of former government officials who they accuse of misapplying funds accruing from the Tema Oil Refinery debt recovery levy.
One of the leaders of the demonstration, Brogya Gyansi told Joy News he was highly elated about the numbers that showed up for the demonstration.
He said the turnout could only mean that Ghanaians were fully awake and would demand probity and accountability from ex-government officials.
He said much of the suffering of Ghanaians brought about by the fuel hikes was attributed to the sky rocketing TOR debts left behind by the erstwhile New Patriotic Party government.
He dismissed assertions by members of AFAG that their demonstration was only to distract public attention, saying they had raised pertinent issues for the consideration of the government.
Play the attached audio for excerpts of the interviews
Story by Nathan Gadugah/Myjoyonline.com/Ghana