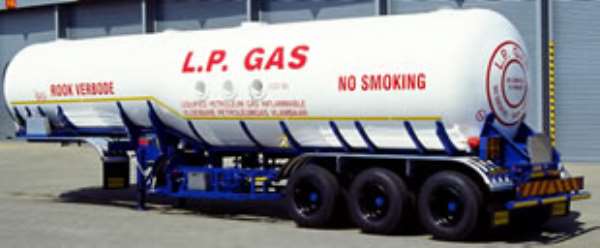 There is acute shortage of Liquefied Petroleum Gas (LPG) in most gas filling stations in Accra, causing long winding queues at these stations.

A visit by the Ghana News Agency (GNA) on Monday to Rootsenaf gas filling station at Adabraka, near the old Roxy Cinema showed a long queue of both commercial users particularly taxi drivers and household users.

Mr John Adowah, Operations Officer at Rootsenaf gas station, attributed the long queues at most gas stations in the metropolis to the shortage of gas in the system.

He explained that last Friday, the management received some consignment of LPG from the Tema Oil Refinery (TOR) in the evening and sold the product on Saturday, and because it did not operate on Sunday, had to reserve the rest for Monday.

Mr Adowah said on Monday morning, management resumed the sale of the product which got finished around 09.55 hours.

He explained that management was expecting a new consignment from TOR on Monday afternoon for sale.

However, most of the commercial users especially taxi drivers who spoke to the GNA were not convinced by the assurances given by the management of Rootsenaf Gas station.

Mr Evans Nyarko, a taxi driver said since last Thursday he had not been able to fill his cylinder because there was no gas at most of the gas filling stations in Accra.

He said on Sunday night he heard that there were some at Adabraka and had to rush there on Monday morning from Madina to join a long queue and "around 09.55 hours we were told the product had finished."

Mr Nyarko who looked frustrated questioned some of the excuses government had given for not being able to supply the product regularly on the market.

He said since there was increase in demand for the product, government should endeavour to import more LPG to meet the increasing demand.

Mr Bismark Larbi, another taxi driver said he joined the queue last night around 19 hours so that he could be served early on Monday morning but had since been in the queue only to be told later that the gas had finished.

He said since Sunday night he had been sleeping in his car and did not know what to tell the car owner when asked for the daily sales.

Mr Larbi said most taxi drivers were breadwinners in their families and with the continuous shortage of LPG in the system it would affect them greatly.

Mr Kwadwo Tieku, also a taxi driver complained that the beginning of 2011 had been one of the worse in terms of LPG shortage in the country.

He said despite the recent increment in the price of LPG they still had to queue for a long time before they could get the product to buy.

Mr Tieku said 14.5 kilogramme cylinder of LPG which was sold for GH¢12.2 was now being sold at GH¢15.2.

He said recently the Accra Metropolitan Assembly (AMA) had increased its toll on taxis and other commercial vehicles which had affected their daily sales.

Mr Tieku said since last Saturday, he had not worked because there was no gas in most parts of the metropolis and so he had to park the car.