Yutong Bus Crashes Into Restaurant At Achimota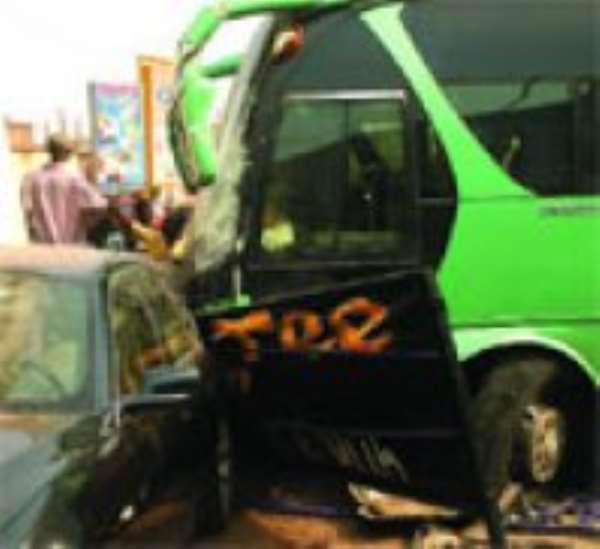 The Yutong bus and the BMW saloon car in the crash.
A speeding Kumasi-bound Yutong bus, whose driver had an earpiece in his ears, skidded off the Achimota-Nsawam Road and crashed into a restaurant at Achimota, causing injury to six people.
Nobody died in the accident, which occurred around 5:30 p.m. last Friday, and the injured persons were rushed to the Achimota Hospital.
According to eyewitnesses, the accident could have been tragic if vehicles had approached from the opposite direction, since there could have been a head-on collision.
When the Daily Graphic reached the accident scene around 6:15 p.m., the bus, with registration number GC 5069 Z, had damaged the wall of the Mc Tee Restaurant and Pub and a parked BMW saloon car, with registration number GS 3398 Y.
The owner of the BMW vehicle who decided to take refuge under her car on sighting the approaching bus, sustained serious injuries from the impact of the bus crash.
An eyewitness, who sustained a minor injury and gave his name as King, said he had gone to the restaurant to buy food. While he was waiting to be served, he heard a loud noise.
Sensing danger, the customers in the restaurant started running to safety. All of a sudden, the bus rammed into the outer wall of the restaurant, smashing the BMW in the process.
"My brother, a lot of us here could have been dead by now if we had not sighted the bus approaching our direction," King said in a trembling voice.
The Manager of the restaurant, Mr Teddy Antwi Adjei, explaining how he miraculously escaped death, said he, in the company of some clients, was sitting facing the road when he heard a screeching sound emanating from the bus.
He said all of a sudden, the bus driver, who seemed to have lost control of the vehicle, veered off the road in the direction of the restaurant.
He said the owner of the BMW decided to take refuge under her car, the impact of the crash into the BMW making her sustain serious injuries.
According to Mr Adjei, after the accident, scores of angry residents and passers-by, who thronged the scene, wanted to lynch the driver but he was whisked to safety.
A security woman, who declined to mention her name, explained that the Yutong bus had been speeding and, in its attempt to avoid hitting a Tico car around the new Achimota Overpass, it veered off the road, resulting in the accident.
Checks by the Daily Graphic indicated that the expiry date on the insurance sticker on the bus was December 21, 2010.
Authorities from the Motor Traffic and Transport Unit of the Tesano Police Stationhave been at the scene to assess the situation, after which the bus and the BMW were towed away for further investigations.