Mining coy assists Mpatoam community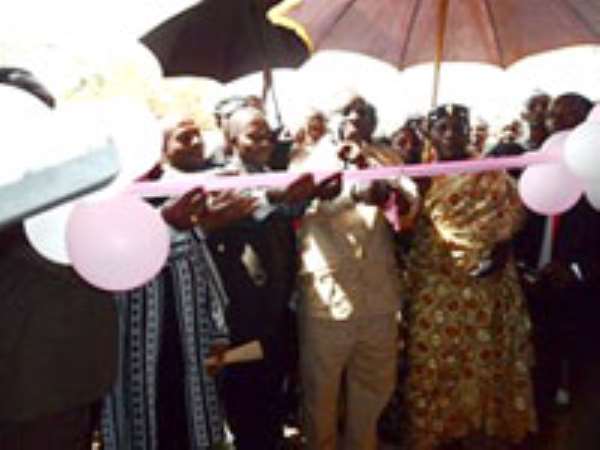 A small scale mining company, E.K. Agyemang Mining Group, has constructed a 3-unit classroom, with office and library block and three boreholes, for the people of Mpatoam, a mining community in the Amansie West District of the Ashanti Region.
The projects, which formed part of the company's social responsibilities to the community, come as a relief to residents in the area, who lack basic educational amenities and good drinking water.
Despite being a small scale mining community, the residents of Mpatoam has endured long years of neglect, in terms of the provision of social and educational needs, with the associated problems of illegal mining (galamsey) operators.
The community lacked educational infrastructures, and the only source of drinking water had been contaminated by the activities of the galamsey operators.
The mining company therefore, saw the need to construct the Junior High School classroom block, and the three mechanised boreholes, at an undisclosed amount, to the community.
Speaking at the official commissioning of the projects last Thursday, the Chief Executive Officer (CEO) of E.K Agyemang Mining Group, Mr. Emmanuel Kwabena Agyemang, said the aim of the company was to equip the youth in the area with the requisite academic knowledge that would enhance their future development.
He noted that the galamsey business was driving many youth out of school, a situation, which he said, was having dire consequences on the development of the community.
Mr. Agyemang further indicated that apart from the provision of the educational facilities, the company also employed about 90 percent of its workforce from the community, because it wanted the people to reap the benefit of existence of the company in their locality.
He further noted that the company also adopts modern mining practices, and provides adequate security to its workers, to avoid any form of disaster.
Mr. Agyemang however, appealed to the government to support small scale miners with logistics, because the huge cost of purchasing equipment does not encourage most people to register under the small scale mining sector.
The District Chief Executive of Amansie West, Charles Oti Prempeh, reiterated the need for more private involvement in the areas of social and educational development, since the government alone could not shoulder the numerous developmental needs of its people.
He therefore, commended the company for the kind gesture, and advised the youth in the community to refrain from the activities of illegal mining.
Mr. Oti Prempeh also charged chiefs and traditional rulers in the community to avoid leasing lands to individuals to go into galamsey operations, stressing that rather such people must be encouraged to register with the Minerals Commission, in order to secure the right training and approval to undertake small scale mining.
Pix: The DCE, Mr.Oti Prempeh, cutting the tape for official comissioning of the school