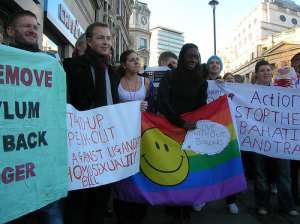 A lesbian whose asylum application has been rejected by the United Kingdom (UK) Home Office is to be deported to an East African country hostile homos and recently proposed a bill which would make homosexual acts punishable by execution.
The U.K. Border Agency, is now holding a Uganda born student, Brenda Namigadde, 29, who was among those took part in a demonstration outside the Uganda High commission in Trafalgar Square, Central London in 2009, when the Ugandan government introduced an Anti-Homosexuality Bill in parliament. The bill that shocked the liberal western governments suggested all Gays and Lesbians in the country should face the death penalty.
Speaking about her case from the UK Border manned Heathrow immigration detention centre where she being held, Namigadde, said she fears for her life once in Uganda.
"They already know who I am, because photos were taken of me and my colleagues that day," said a tearful Namigadde, with fear overwhelmed her face, she added: "Ugandan government has names of most of them as they have been published in several newspapers in the country." Namigadde was referring a demonstration that took place after a public outcry from several organisations in the UK led by Gay Activists Alliance International (GAAI) with support from Gay Uganda, Sexual Minorities Uganda and Outrage organisations. Among the speakers on the day were Davies Mac-Iycllam, the co-founder of GAAT, Peter Tatchell and Skye Chirape.
Homosexual is illegal in Uganda and the country's president previously attacked it calling it, "negative foreign culture".
In the Ugandan parliament, there is an Anti-Homosexuality Bill which was sponsored by Ndorwa West, MP David Bahati, a legislator from President Museveni's ruling National Resistance Movement (NRM). It was only stayed when it received a sharp condemnation from around the world and after donor countries threatened to cut-off of aid to Uganda.
Brenda, who was in a relationship with Canadian born Janet Hoffman, for almost three years while in Uganda, said; "several of my lesbian friends who we used to hang out within in the country have not been heard of since news of what the government had in mind broke out."
"It is like they have all vanished in thin air, I don't know what is going to happen to me once there," said Brenda before she broke into tears.
The 29 year Ugandan lesbian, was due to be deported on Thursday the 20th of January, but only missed out after a mix-up with someone else name being submitted to the airline.
Talking about this case that he called 'unique', among the cases he has had to deal with a spokes person for a law firm Cardinal Solicitors in Luton, said it was high time the Home Office deals with cases of Homophobic correctly, because lives could be at stake.
"Her life could be in danger because very little is known about this law in Uganda," He said. "There are reports of mob justice in certain areas in that country.