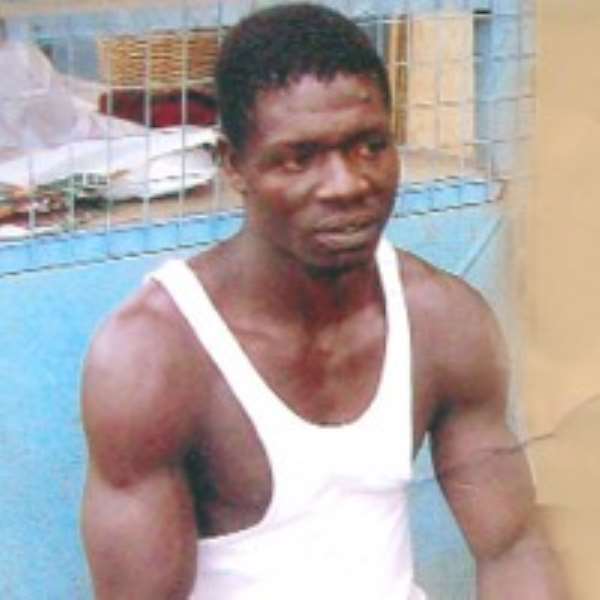 Richard Kwabena Boakye

The family of a 27-year-old truck pusher, Richard Kwabena Boakye of Dome, a suburb of Accra, is crying foul for the death of their son at the Madina police cells.
The deceased, according to the family, was arrested on Sunday, January 9, 2011 around 8:30pm, together with two others, Emmanuel Darko and Mazu Seidu, for dealing in Indian hemp.
According to sources, the deceased also owns a provisions store within the Madina market, and so opens the shop after retiring from the truck pushing business during the day.
Narrating the incident to DAILY GUIDE, the elder sister of the deceased, Emelia Marfo, indicated that the police personnel from the Madina police station, led by one Victor, stormed the market place around 8:30pm to make an arrest of people they suspected to be dealing in Indian hemp.
She noted that Richard Boakye and friends had prepared their evening meal and were ready to eat when the police arrested them.
"When the police got to their area, Victor requested that he smells the suspects hands to find out if they were part of those smoking the Indian hemp, which they obliged," she added.
She maintained that Richard Boakye was in his kiosk by then and when he came out, the police mistakenly identified him as Kwabena Amedeka and requested that he goes with them to the station.
Distressed Emelia continued that the policemen, led by Victor and two sacked NYEP personnel, called Richard a liar when he insisted that he was not Amedeka and beat him mercilessly with sticks.
"The three men assaulted Richard with a stick, pulled his penis and stamped his groins several times before taking him to the police station together with the two friends."
She averred that at the station, Richard complained of aches in the lower abdomen but the policemen refused to attend to him or grant him bail.
"I was at the police station myself on Monday morning to seek for bail for my brother after friends told me that he was vomiting blood but was refused bail by the police," the elder sister said.
Emelia alleged that Victor sacked her from the station after she persistently requested for bail for the brother, stating that dogs were more important than the brother.
Emelia, an eyewitness, said that Richard died in the police cells on Monday evening, January 10, 2011.
Meanwhile, the Madina District Police Commander, Chief Superintendent David Eklu who confirmed the story, indicated that even though Richard was arrested by the police, he died at the police Hospital.
He said that the police, on Monday morning, took the deceased to the Madina polyclinic but he was referred to the Police Hospital, where he eventually passed away.
He said that the matter had been handed over to the Divisional CID for investigation while the police also wait for the outcome of the autopsy report.
Chief Superintendent Eklu noted that "there is nothing to sweep under the carpet. It is only the autopsy report that will prove the allegations by the family members."