Tunisia starts three days of mourning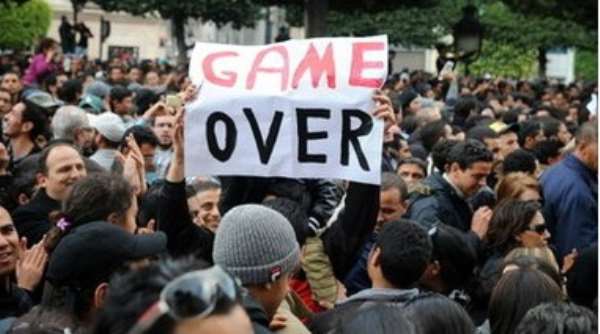 Protests have continued against the deposed leader's political party

Tunisia is beginning three days of mourning to honour those who died in the unrest that led to the fall of President Zine al-Abidine Ben Ali.
At least 78 people have been killed since a wave of protests began last in January.
A new, interim government has faced continuing protests against Mr Ben Ali's RCD party remaining in office.
It has confirmed it will recognise banned political groups and provide an amnesty for political prisoners.
The announcement came as the government held its first cabinet meeting.
Cabinet ministers said earlier this week that all political prisoners had already been freed.
Human rights group Amnesty International welcomed that move, but said it had received information that several political prisoners linked to the banned Islamist party Ennahda were still in detention.
Tunisia's new cabinet has promised to hold free and fair elections within six months but has given no dates. The constitution says they should be held within six months.
There were demonstrations in Tunis on Thursday near offices of Mr Ben Ali's RCD party, as well as reports of rallies in the towns of Gafsa and Kef.
Demonstrators are demanding that all members of the RCD party be excluded from any future administration.
Last week four opposition ministers quit the cabinet just one day after it was formed, demanding the exclusion of RCD ministers.
Prime Minister Mohammed Ghannouchi, interim President Fouad Mebazaa - the speaker of the lower house of parliament - and several ministers have quit the RCD to try to distance themselves from Mr Ben Ali.
The RCD has also dissolved its central committee.
It has been a week since Mr Ben Ali fled to Saudi Arabia following a wave of demonstrations.
The UN says as many as 100 people died as the police cracked down on the protests, which started to spread after a man set himself on fire in central Tunisia on 17 December.
Correspondents say political debate in the media and the street has opened up remarkably quickly in a country where political dissent had previously been strictly suppressed.