'AHOKYERE' DEMO TO HIT ACCRA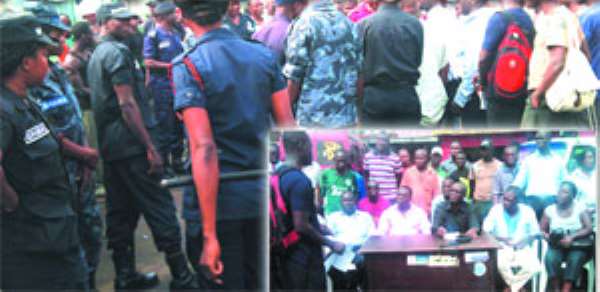 The heavy police presence at the AFAG press conference , INSET: Leading members of AFAG adressing the press yesterday
Come Wednesday, 26th January 2011, Ghanaians feeling the pinch of the harsh economic situation in the country, compounded by the recent fuel price increases, would join the Alliance for Accountable Governance (AFAG) to hit the streets in a demonstration christened 'AHOKYERE DEMO'.
According to AFAG, the demonstration is a follow-up to their 10 days ultimatum to the government to reduce fuel prices, or face the wrath of the people. 'The time has elapsed…this government would have to be a listening one, or the people will speak,' the group noted.
The date for the demonstration was announced at a press conference held at the 37 Military Hospital lorry station. But, very unusual of yesterday's press conference, was the heavy presence of armed police personnel.
The armed-to-the-teeth police personnel, wielding guns, tear gas, shockers, and other artillery, invaded the grounds where the press conference was scheduled to take place.
Some serious looking, gum chewing, and gun wielding police personnel stroked their guns, as they positioned strategically at the grounds of the press conference, as if to say 'we are ready.'
The intimidating presence of the police led to a delay in the start of the programme, as the organisers of the press conference sought clarification from their commanders. The police personnel, however, explained that their presence was to provide protection for the event, and not to intimidate the people.
This explanation, however, was unconvincing to some leading members of AFAG, who tried to recall the last time they had police 'protection' at any of their press conferences, and more so, when they (police) were not invited.
A compromise was, however, reached, when the number of police presence was reduced. Martin Adjei, Spokesperson for AFAG, announced the group's intention to embark on a peaceful demonstration, christened 'AHOKYERE DEMO', which literally means, demonstration against harsh economic times, slated for 26th January, 2011.
The demonstration, according to AFAG, is in protest against the escalating economic situation currently pertaining in the country, and compounded by the recent fuel price increases.
According to AFAG, the Mills-led administration had reneged on its promise to better the living conditions of Ghanaians. The group further noted that the government was being foolhardy and insensitive to the plight of Ghanaians, and that the call to reduce fuel prices had gone unheeded.
The group's spokesperson, Martin Adjei, reiterated that the effect of such harsh policies accounts for the collapse of some industries, and the worsening general economic conditions.
'They (NDC) promised better living conditions, but now we live in a bitter era,' he noted.