US Firm Ready To Commit US$1.5bn To Rail System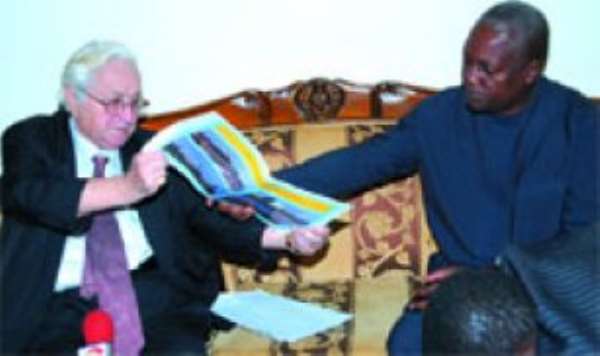 Mr E. J Miller, President of Intercontinental Development Corporation (IDC), presenting a document on the outcome of the research conducted by his corporation to Vice-President John Mahama at the Castle, Osu.
An American investment company, Intercontinental Development Corporation (IDC), is to invest $1.5 billion in the rail transport sector of Ghana.
The Bank of America is to provide 85 per cent financing for the project, while the IDC will provide the remaining 15 per cent.
The President of the IDC, Mr E.J. Miller, disclosed this yesterday when he led a delegation from the company to call on the Vice- President, Mr John Dramani Mahama, at the Castle, Osu.
Currently, public transport in the city is provided by a mix of privately owned mini buses, taxis and buses which add to congestion on the roads and contribute to air pollution.
He said the American bank had agreed to commit its part of the bargain in a memorandum of understanding (MoU) with the IDC.
According to Mr Miller, a new transit system would operate on elevated beams in order not to disturb pedestrians and road traffic.
He said current tro-tro and bus operations would be reduced to feed the transit line after implementation in order to link more passengers to the system.
He said the project was expected to create permanent jobs for 1,000 Ghanaians.
Mr Miller said the company had decided to invest in Ghana largely because of its democratic credentials.
Mr Mahama, for his part, said the government had plans to solve the traffic situation in cities across the country, particularly in Accra.
He said as a result, the transport ministry had been tasked to find an alternative transport system for the country, saying that it was in that regard that the government welcomed the initiative.
The Vice-President said the government had a limitation to concessionary loans but would task the Ministry of Finance to look at the term sheet and advise accordingly.
He explained that since it was an international deal, it had to be placed before Parliament for approval, saying, 'I wish to thank you for the confidence reposed in Ghana.'