Ouattara will not leave the population of Ivory Coast in the hands of a dictator- Spokesperson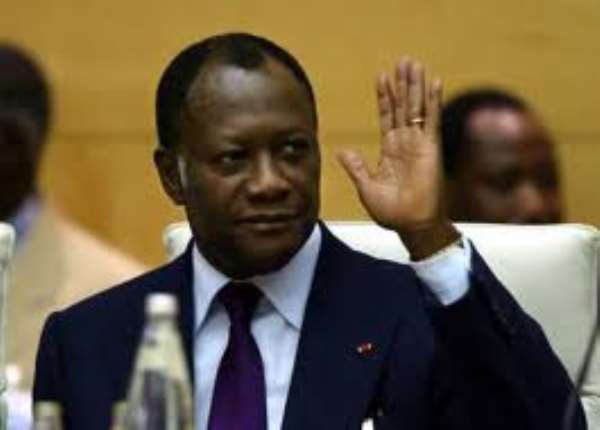 Alassane Ouattara
United Nations backed president of Cote d'Ivoire, Alassane Ouattara will not leave the Ivorian population in the hands of a dictator.
That is according to one of the spokespersons of Ouattara, Patrick Achi.
Speaking from his base in Abidjan, Achi told Joy News Mr. Ouattara will pursue all peaceful means to get Laurent Gbagbo out of office but will not hesitate in adopting ECOWAS' resolution of a legitimate force if he hangs on to power.
"Alassane Outtara is aligned entirely and completely behind what ECOWAS and AU says…. We are going to use all peaceful means to beg former president Gbagbo for the sake of his nation and the dignity of Africa to step down because he has lost [the] election. But if he doesn't want to do so, we will not leave the population of this nation hostage of a dictator," he said.
"We need to use legitimate force to remove him so that this country moves forward. Africa does not need any more of these kinds of leaders."
Patrick Achi dismissed allegations that the results of the election in the north was rigged in favour of Ouattara, saying those were "normal complaints" received by the constitutional council but said it did not constitute enough basis for the annulment of the election, least of all to have the verdict turned in Gbagbo's favour.
He was appalled that the president of the constitutional council cancelled over 60,000 votes of seven regions in Ouattara's stronghold- at a time he Ouattara was leading by 40,000, only to turn around and declare Gbagbo the president.
He alleged Gbagbo's forces are on a killing spree, invoking a state of insecurity in the country.
"Innocent people have been killed; women, men, kids, killed like animals. So the people are afraid, they are hiding, they don't live in their houses. They don't go to work. It is just terrifying,' he lamented.
He will not accept suggestions that the verdict of the election run-off was announced more than 72 hours after the election, in flagrant contravention of the Ivorian law.
Achi noted there is no law in Ivory Coast which stipulates that elections must be declared at all cost in 72 hours after election, adding, the first round of the election was announced after 72 hours.
He wondered why Gbagbo will accept results of that election and yet reject the run-off election results which was also declared after 72 hours.
Mr Achi is however unaware of the reported arrest of five Ghanaians by forces loyal to Ouattara on suspicion they are mercenaries for Gbagbo.
Play the attached audio for excerpts of the interview
Story by Nathan Gadugah/Myjoyonline.com/Ghana