Salem Investments To Broaden Equity Base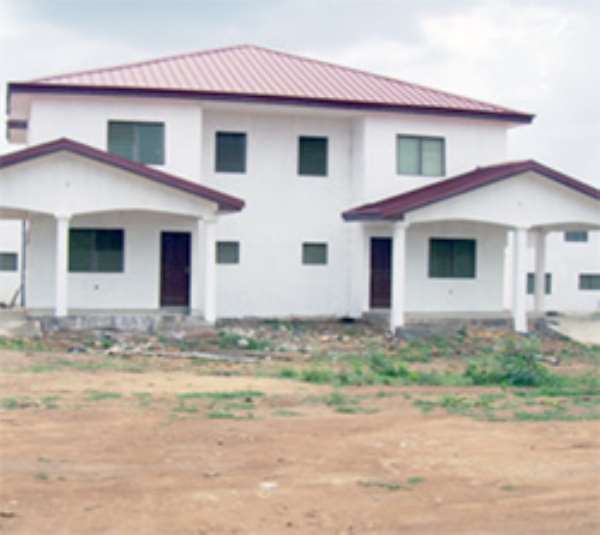 William Adjei Koduah, Managing Director of Salem Investments Limited, a private estate developer, has indicated that the company's doors are opened to both domestic and foreign investors, who want to partner it in the construction of quality but affordable houses in Ghana.
In an interview with CITY & BUSINESS GUIDE recently in Accra, Mr Adjei-Koduah noted that even though the company, which was registered in 1995, is 100 percent Ghanaian-owned presently, it has been able to provide a lot of affordable houses at several locations in Accra and beyond.
'Our quest for both domestic and foreign participation, as well as capital, is in line with Ghana's Investment Code. We believe this will enable us broaden the scope of our housing delivery services and make Salem a household name.'
Salem Investments began operations as an importer and retailer of building materials, and in 1999 it decided to venture into commercial real estate development.
'This diversification has paid off as Salem Investment Limited has established a solid reputation as a dependable cost effective supplier of affordable homes to meet the pockets of different classes of people in Ghana.
'Salem Investment Limited aims at providing quality housing estates where satisfied customers would acquire wonderful homes at incomparable prices in pristine and beautifully-landscaped surroundings.'
The MD continued that Salem Investment Limited is presently developing Salem Estates at East Legon Extension, Adjirigano - one of the finest residential areas in Accra.
'This estate comprises 200 private residences set in beautiful surroundings with all utilities.
'Also, we have acquired a 160-acre land at Malejor, near Valley View University, Oyibi to develop a 600-unit residential housing estate.
This development is going to be the main focus of the company's activities in the foreseeable future. A number of one-storied housing units have been completed and are on sale at this new estate.'
Already, he said the company's solid reputation and the quality as well as designs of its beautiful homes, have attracted quality corporate and private customers.
And some of its major customers include corporate institutions such banks, religious organizations, educational institutions and individuals.
Employing over a hundred builders, artisans, building technologists and other allied professionals, Salem Investment Limited is the proud developer of various 2-bedroom semi-detached houses with living room, dining, kitchen and store; 3-bedroom semi-detached, with carport, kitchen, store and guest toilet and 4-bedroom self contained with carport, kitchen, store, guest toilet and other plush facilities.
The company's head office is located in the magnificent 'Salem House', off the Spintex Road at Baatsona, Accra.
'This will serve as Salem Investment Limited's corporate headquarters in the nearest future,' Mr Adjei-Koduah added.
By Samuel Boadi