Unity Oil Boss Prays For Ghana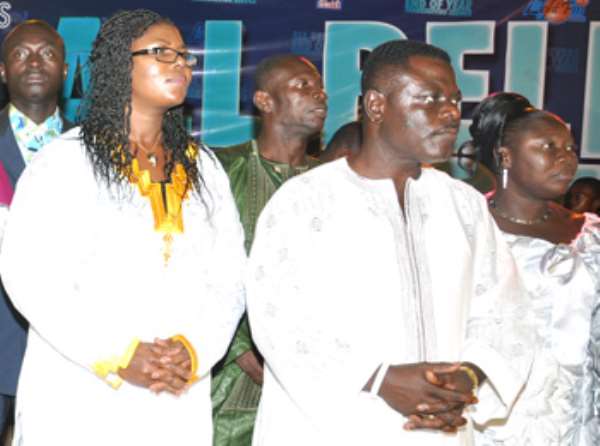 Mr and Mrs Kwame Kyei praying for Ghana
The Chief Executive Officer of Unity Oil Company and proprietor of Light FM radio station based in Kumasi, Dr. Kwame Kyei, has asked Ghanaians to de-emphasise politics and concentrate on national issues.
He prayed for a prosperous year for all Ghanaians during a programme he organized for a group of persons to usher in the New Year in Kumasi.
Ghanaians, he said, should pray for the President to carry through his policies in order to move the nation in a positive direction, adding that government needed all hands on deck.
The newfound oil resource in the country, according to Dr. Kyei, should be managed and supported by all so as to make it a blessing and not a curse, as it had been to others elsewhere.
He charged the Ghanaian media to stop fabrications about political issues, especially those concerning the President who, according to him, was doing all he could to improve the living conditions in the country.
'We must stop the blame-game and support him with prayers. If this is done, the country will achieve the middle income status it is yearning for,' he said.
The main speaker was Rev Dr Oheneba Adjei Mensah from Hamburg, Germany, who urged Ghanaians to be grateful to God for seeing them through the past year.
Favour Kyei, wife of the CEO, congratulated the participants for making the programme a huge success.
Unity Oil has organized such functions for sister radio stations in Kumasi over the years in praise of God and this year's was held within the premises of Unity Oil in Atonsu Line.
It was described as a wonderful gathering, with the premises filled to capacity. The theme for the occasion was from Psalm 116: 'What Shall I Say To The Lord?'
The function, which was held on January 7, 2011, attracted local and foreign musicians, as well as dignitaries from all walks of life, including Timothy Riley from USA, Rev Abiola Omobude, Nigeria, DSP Kofi Sarpong and Victoria Safo.