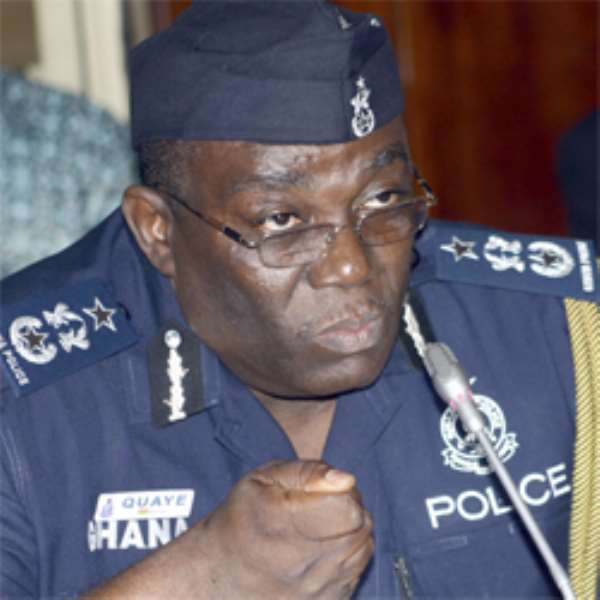 Paul Tawiah Quaye, IGP
SOME RESIDENTS of the Tamale Metropolis believed to be members of the National Democratic Congress (NDC), in the early hours of last Saturday, allegedly pounced on personnel of the Motor Traffic and Transport Unit (MTTU) of the Ghana Police Service and subjected them to series of brutalities.  
A certain Sergeant Tinkorang and Lance Corporal Blay, who were among the officials on duty at the time of the incident, sustained various degrees of injury resulting from the scuffle with the NDC hoodlums.
Sergeant Tinkorang, who is currently in critical condition, has been admitted at a Tamale hospital for treatment while his other colleague was treated and discharged on Saturday afternoon.
The police subsequently arrested four persons who are believed to have masterminded the attack and would soon prefer charges against them and put them before court for prosecution.
The police, on the instance of the Inspector General of Police, Paul Tawiah Quaye, were instructed to step up efforts in clamping down on road traffic offences throughout the country as part of measures to reduce carnage on the roads.
The exercise started in other parts of the country without any incidents, with sections of the public complying with the regulations of the road traffic act, but this could not be said of Tamale.
Officials of the MTTU were said to have, upon directives from their bosses, planned an operation last Saturday after a follow up visit by ACP Awuni Angwubutoge, its National Commander, who reiterated the need for all road users to adhere to the road traffic act or face the consequence.
Soon after the police had apprehended some road traffic offenders, three young men came to the scene and tried preventing the police from processing the suspects for court, generating some heated exchanges.
Some residents, on seeing what was happening, stormed the scene and subjected the uniformed police to severe beatings, thus injuring the two victims.
Reinforcement was therefore deployed to the scene, where they arrested those obstructing the arrest as well as the traffic offenders and took them to the police station.
This was said to have attracted the attention of many more residents, who besieged the police station and demanded the release of the suspects, promising dire consequences if the police failed to comply with their demands.
Several attempts to calm down the irate residents, numbering over 50, proved futile as they become more violent, raining insults on the personnel on duty until the branch secretary of the NDC at Nyohini, a suburb of Tamale, also intervened and calmed the group.
Though the police administration has suspended the exercise for now, officials say they would not be deterred by the actions of the residents and that they would soon resume operations.
From Stephen Zoure, Tamale