Korle-Bu provides Information Desk for patients & clients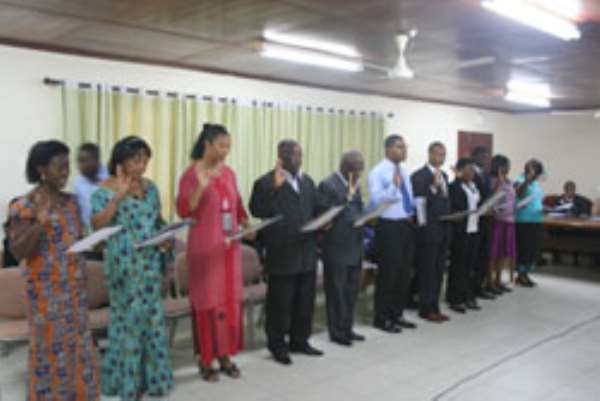 The committee members taking the oath of office
A 15-member committee on ethics and professionalism has been inaugurated to provide an avenue for the prompt redress of grievances of patients and clients at the Korle Bu Teaching Hospital (KBTH).
According to the Chief Executive Officer (CEO) of the hospital, Prof. Nii Otu Nartey, it is important that ethics and professionalism is applied to all levels of health delivery for the satisfaction patients and clients.
The Chief Executive Officer was speaking at the inauguration of the Ethics and Professionalism Committee on Thursday, Accra.
He added that the Information Desk would provide a platform for patients and clients to log complaints and grievances, whereby the hospital would have the opportunity to correct infractions on the rights of patients before such aggrieved persons seek redress elsewhere.
'The hospital Board and management decided to set up this committee as part of the schemes for improving the quality of care we provide to our patients and clients,' he said.
The CEO said the management was aware of the systematic challenges with equipment facing some parts of the hospital, and that steps were being taken to address them to enhance the smooth flow of health service delivery, adding, 'So that infraction on the rights of patients might not be blamed on equipment and other failures.'
'Let me give the assurance the management will take the work of this committee seriously, and will implement its recommendations fearlessly, irrespective of the persons involved.' he stressed.
He further emphasised that a client-satisfaction survey has been conducted, and the recommendations of the findings were being implemented, which he assured, would be conducted regularly.
The Committee includes Mrs. Esther Hammond, Mr. Kwame Gyamfi, Dr. Ama Edwin, Dr. Divine Banyubala, Dr. Ebenezer Badoe, Prof. J.H. Addy and Rev. Dr. Bart-Plange.
The rest are Mr. Ernest Owusu-Aboagye, Dr. Lily Wu, Prof. A. Lassey, Rev. (Mrs.) Rose Abbey, Prof  Y. Adu-Gyamfi, Ms. Gladys Adeyemo and  Mrs. Christable Dadzie.
The acting Board Chairman for the hospital and the Member of Parliament for Ablekuma South, Fritz Baffour, swore in the committee members, and charged them to perform their duties diligently, and without fear or favour.