Economic Commission for Africa to support Ghana's street naming project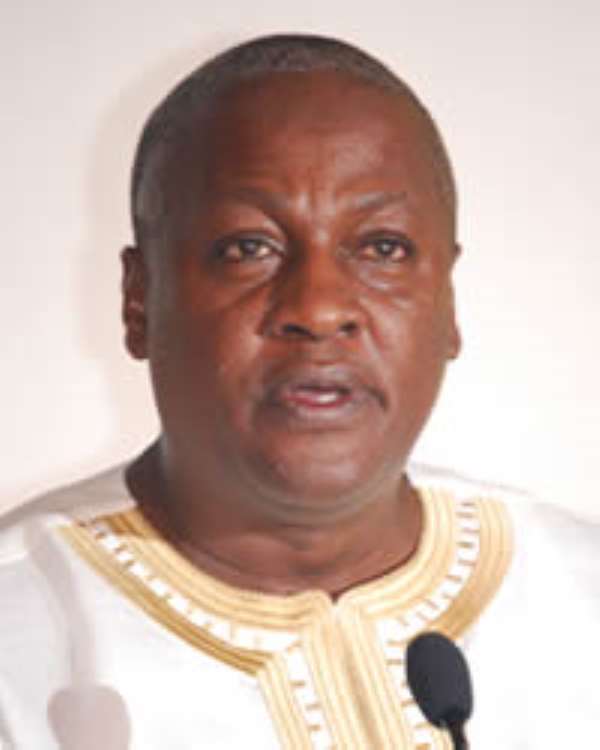 Vice President John Mahama

Vice President John Dramani Mahama on Saturday announced that government had signed a Memorandum of Understanding with the Economic Commission for Africa to provide technical assistance for the country's street naming and house numbering project.

According to him, the project which is under the Geographic Urban Service Infrastructure Initiative would also enable government to zip-code the major cities and streets as a requirement to be placed on the Global Positioning System.

The Vice President made this announcement at Obuasi in the Ashanti Region when he inaugurated the Municipal street naming and House numbering project initiated by the Assembly some months ago.
The project, which involves the use of names of renowned personalities, organisations and business entities, forms part of governments desire to zip-code, name and number all streets and houses throughout the country by the end of 2012.

Apart from facilitating the delivery of mails and parcels, the project would also enhance government's revenue collection.

The project would also help personnel of Ghana National Fire Service and Ghana Police Service to respond promptly to distress calls.

He said the Ministry of Local Government and Rural Development (MLGRD) had developed a policy manual to guide the Metropolitan, Municipal and District Assemblies on the project and urged them to take advantage of the process to complete the process before 2012.

He expressed satisfaction that most of the Metropolitan and Municipal Assemblies had vigorously embarked on the project and hoped that others would also develop similar projects as part of the modernization system of government.

Mr Elvis Afriyie Ankrah, Deputy Local Government Minister said the house numbering and naming project would not only enable the assemblies to collect property rates but would also harmonise and provide effective measures towards the achievement of the Millennium Development Goals.

He appealed to the Assemblies to carry out comprehensive projects that would decongest their cities and ensure good sanitation and rid their localities of communicable diseases.

Mr John Alexander Ackon, Municipal Chief Executive of the area, said his outfit was doing everything possible to rid get rid of illegal miners since their activities could lead to disasters.