Council Threatens Man With Fine Over Lost Cat Posters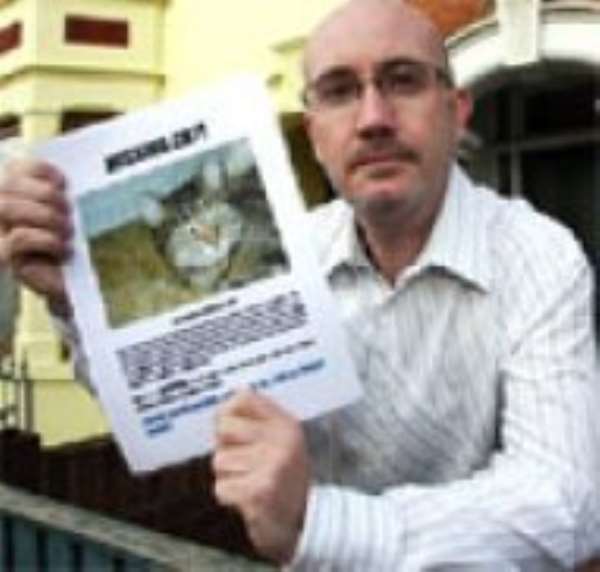 Mike Harding designed 20 posters in a last appeal to neighbours after seven-year-old Tabby cat Wookie disappeared.
A council has been criticised for threatening to hand a £1,000 fine to a pet owner who put up posters of his lost cat.
Mike Harding, 44, was issued with a 48-hour ''remove or pay up'' ultimatum by Bedfordshire Borough Council which accused the driving instructor of ''fly-posting''.
He was forced to drive around his local streets in the early hours of the morning ripping down his lost cat posters one by one to avoid the penalty.
He designed 20 posters in a last appeal to neighbours after seven-year-old Tabby cat Wookie disappeared six weeks ago.
Mr Harding, of Bedford, accused council officials of showing a lack of ''compassion''.
He said: ''I received a call from the council telling me that I needed to take the posters down.
''We've had a few sick hoax calls and I thought this was another and told them to call back.
''When they did, they told me that I shouldn't be putting up posters and if I gave them my address they would tell me why.
''So I did and I was expecting information leaflets, instead they sent a letter saying I could be fined.
''It was a shock, I'm a law abiding citizen and I've not even got so much as a speeding ticket and I'm being threatened to be fined £1,000 for looking for my cat.
''You would think the council would have some compassion.''
After returning from work on Christmas Eve Mike raced around Bedford taking the posters down before the council's deadline and eventually got home at 3a.m.
Bedford Borough Council defended its actions claiming the posters could damage the city's trees.
A spokesman said: ''Our Environmental Enforcement Team discovered more than 20 of Mr Harding's 'lost cat' posters. Some were nailed to eight trees along The Embankment.
''As well as damaging trees, fly-posting is also illegal and may lead to fines of up to £1,000.
''An environmental enforcement officer contacted Mr Harding on December 22 to say we would not prosecute if the signs were removed within 48 hours of receipt of the warning letter, or by 9am on December 24 at the latest.
''The warning letter was posted on December 22, the same day Mr Harding verbally agreed that he would remove the posters.
''Mr Harding has removed the posters and we are satisfied that this matter has been resolved.'' — Telegraph