Nuhu Ribadu chosen as Action Congress Nigeria candidate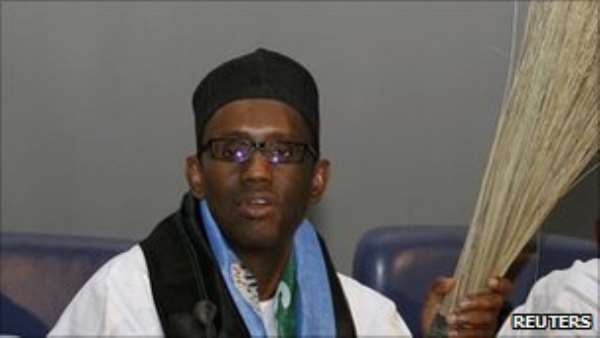 His critics say Nuhu Ribadu is not quite the new broom he likes to present himself as

Nigeria's former anti-corruption chief Nuhu Ribadu has been chosen as the opposition Action Congress candidate for April's presidential polls.
Two other contenders stepped aside to allow Mr Ribadu to win unchallenged.
His entry into the presidential race come after Nigerian President Goodluck Jonathan won the ruling People's Democratic Party primary.
The PDP candidate has won every poll since the end of military rule in 1999, despite allegations of fraud.
The other main challenger for the presidency is former military ruler Gen Muhammadu Buhari of the opposition Congress for Progressive Change.
"I humbly accept the task," Reuters news agency quotes Mr Ribadu saying at the Action Congress convention on Friday afternoon in the commercial capital, Lagos.
He came to prominence as head of Nigeria's Economic and Financial Crimes Commission.
While in office Mr Ribadu prosecuted several high-profile politicians, before being sidelined after the elections in 2007.
His critics accused him of only pursuing rivals to then President Olusegun Obasanjo - accusations he always denied
He returned from exile in June 2010, after saying he had fled because attempts had been made on his life.
Tradition broken
Earlier, Mr Jonathan - a southerner from the oil-rich Niger Delta - defeated northern political heavyweight former Vice-President Atiku Abubakar in the PDP primary.
It is the first election Mr Jonathan has won, as he became national leader after the death of President Umaru Yar'Adua in May last year.
Mr Abubakar's camp has complained of irregularities in the vote - and his agents have refused to sign the final results "on account of lapses observed during the Thursday primaries".
The statement from his office reiterated that the former vice-president was "committed to the democratic process".
Correspondents say the outcome of the PDP primary was historic as the party has a tradition of alternating power between north and south after two terms of office.
This was interrupted when Mr Jonathan succeeded Mr Yar'Adua when he died before his first term had ended.
Before the vote, Mr Atiku appealed to the party to retain that tradition.
But the president won 2,736 votes compared to Mr Abubakar's 805.
There has been speculation that if defeated, Mr Abubakar may leave the PDP, as he did before the 2007 vote, which he lost to Mr Yar'Adua.