Lebanon Honours Ghanaian Peacekeepers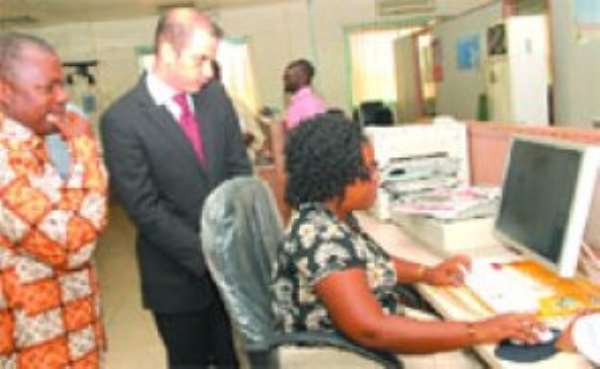 Monuments of two distinguished Ghanaian soldiers, Generals E.A. Erskine and Seth Obeng, have been unveiled in Accra by the Lebanese government in their honour.
Furthermore Lebanon will this year unveil a monument as a tribute to Ghanaian troops who served in peacekeeping operations in that country.
The Charge d'Affairs of the Embassy of the Republic of Lebanon in Ghana, Mr Ahmad H. Soueidan, disclosed this when he paid a courtesy call on the acting Managing Director of the Graphic Communications Group Limited (GCGL), Mr K.A. Kersi, in Accra yesterday.
He said Ghana had a very good reputation in Lebanon because of the exceptional role that the Ghana Armed Forces (GAF) played in that country.
Generals Erskine and Obeng both served as commanders of the United Nations Interim Force in Lebanon (UNIFIL).
Mr Soueidan, who was accompanied by a Lebanese businessman in Ghana, Mr Bashir B. Maouas, said Lebanon and Ghana had a long history of friendship, dating as far back as 1884, adding that Lebanese citizens in Ghana had since enjoyed warm hospitality from Ghanaians.
He, however, made reference to a case in which a Lebanese national was arrested and repatriated for illegally possessing a Ghanaian passport, saying Lebanese people were generally law abiding.
According to him, most Lebanese in Ghana regarded themselves as Ghanaians, as they had married Ghanaians and, therefore, saw Ghana as their second home and would not do anything unlawful to tarnish their image.
He commended the GCGL for the good work it was doing in ensuring that people were well- informed and also always coming out with balanced reports.
Mr Kersi, in his response, commended Lebanese in Ghana for their contribution to the development of the country.
He said Ghana had become a safe haven for many Lebanese, as reflected in the number of Lebanese who were doing business in the country.
He said Ghana had had a stable government for the past 20 years, having gone through five successful democratic elections, noting that although the GCGL was a state-owned medium, it always ensured that it represented the voice of the people.
He said the group was also mindful of the fact that it was state-owned and, therefore, ensured that it always articulated the position of the government on all national issues and carried feedback from the people.
The Editor of the Daily Graphic, Mr Ransford Tetteh, in a contribution, said the paper worked to complement government's efforts at nation-building.
He assured the ambassador that the paper would endeavour to strike a good working relationship with Lebanese in Ghana in order to strengthen the ties between Ghana and Lebanon.