600 face ejection at Accra Psychiatric Hospital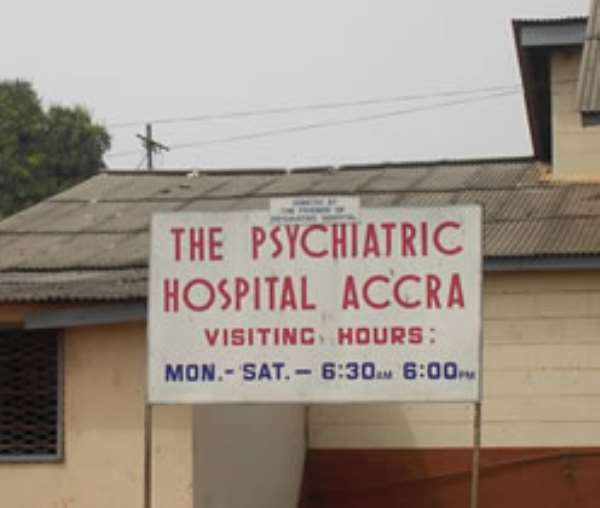 Six hundred inmates of the Accra Psychiatric Hospital who have been cured of their mental illnesses are to face forced ejection from the hospital next week.
Speaking to the Daily Graphic in Accra, the Chief Psychiatrist, Dr Akwasi Osei, said the 600 inmates had all been declared fully recovered and discharged from the hospital but they had refused to leave and make way for other patients.
Consequently, the hospital has declared a special exercise, dubbed 'Operation 600 Patients Home', under which patients who have long recovered but refused to go home will be forcibly sent to their families.
The Accra Psychiatric Hospital was built in 1906. It has capacity for 800 patients but currently houses 1,200 inmates, including the 600 who have been declared cured.
The Chief Psychiatrist was emphatic that the exercise would be sustained over the next six months to create space for the hundreds of patients, some wandering the streets of the city, who were unable to conveniently access mental health care at the facility as a result of the current congestion there.
"Those patients who have been fully cured of their ailments and are eating and living on our premises will be sent home, wherever they come from," he stressed.
Dr Osei told the Daily Graphic that the exercise would pave way for an in-house patient system, adding that the hospital would consequently encourage community health care that would enable patients to be closer to their families and feel a part of society.
"The stigmatisation of mental patients is one problem that the public must try to avoid, since it does not help the patients to recover and, as happened in Tema recently, this can cause the death of patients," he stressed.
On the passage of the Mental Health Bill, Dr Osei said the Ministry of Health would meet the Parliamentary Committee on Health to discuss issues concerning the bill.
He called on the government to put in the needed logistics and resources to enable the staff of psychiatric hospitals in the country to work efficiently, adding that if that was done, the youth in particular would find interest in applying to study at their training schools and subsequently work with them.
On Thursday, April 1, 2010, President John Evans Atta Mills paid a surprise visit to the Accra Psychiatric Hospital and assured the medical staff and the patients there that the government would improve upon the procurement of medicines and other facilities for better care of mental patients.