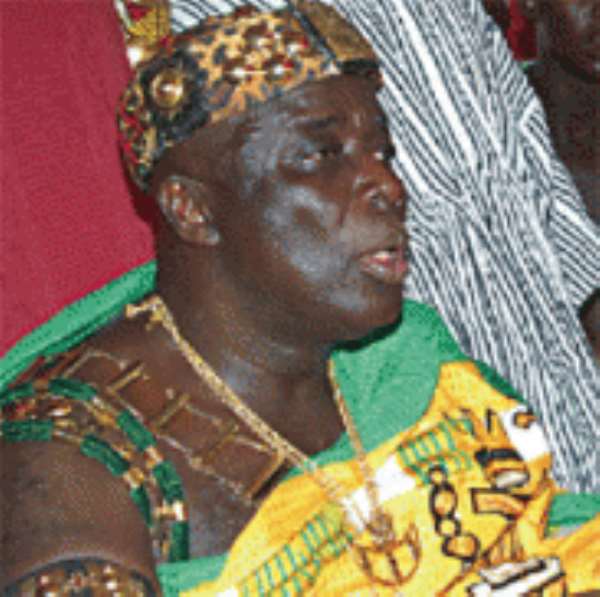 Osagyefo Amoatia Ofori Panin II
The Okyenhene, , has added his voice to those calling for the election of Metropolitan, Municipal and District Chief Executives (MMDCEs) in order to make them more accountable to their constituents.
He suggested, for instance, that three persons could be put forward for the people to chose from. Osagyefo Ofori Panin made the call at the ongoing 62nd annual New Year School and Conference at the University of Ghana, Legon.
The school, which is on the theme, "Harnessing the power of the youth for accelerated development", is being organised by the Institute of Continuing and Distance Education (ICDE) of the University of Ghana.
The Okyenhene underscored the need for a more effective system of decentralisation, adding that there was no need for people to sit in Accra and control activities in other regions.
"How can you sit in Accra and control schools in Wa?" he asked, and emphasised the need for effective decentralisation.
On culture, he said no one could afford to ignore his or her history and culture, adding that although that way of life was relevant, "our culture should not blind us".
He said the country could not keep doing things (cultural practices) that were not applicable in today's present world and cited female genital mutilation (FGM) and stressed the need to change negative cultural practices that tended to debase human dignity.
Osagyefo Ofori Panin, said there was the need for the country to promote its unique culture, pointing out however, that culture, with time, changed for the purposes of development.
He underscored the need for support for the youth to enable them to take their rightful places in the society, stressing that there was a stockpile of knowledge within the youth that needed to be tapped.
Osagyefo Ofori Panin said the country needed to have confidence in its business community to help build a strong domestic economy.
For his part, Prof Kofi Anyidoho of the Department of English of the University of Ghana said culture was very important, as it "provides nourishment for the soul".
He expressed concern over the situation where some young people found it difficult to communicate effectively in their local language.
In a presentation, the Queen of Denkyira, Nana Ama Ayensua Saara, deplored the increasing trend of what she called, indecent dressing among the youth.
She said the practice by which some youthful males pulled their trousers below their belt line and females exposed parts of their breasts, beads and panties, was unacceptable. Share Your Thoughts on this article Name Email Location Comments Graphic Ghana may edit your comments and not all comments will be published