15 Killed In Bloody Crash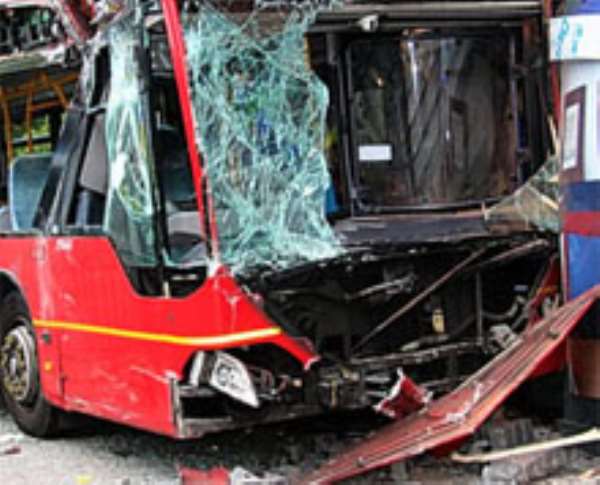 FIFTEEN PERSONS perished in a fatal accident on the outskirts of Nkenkenso in the Ashanti Region in the early hours of yesterday when two Yutong buses were involved in a head-on collision at about 3.00am.
The dead persons were drivers of the two vehicles, two young girls and 11 other males.
All the accident victims died on the spot. Most of them were so disfigured that residents had to rush them to hospital morgues immediately.
Driver of the mini Yutong bus, popularly called the Amina bus, had both legs severed and bled to death before help could reach him.
Several human body parts littered the road as sympathizers worked to convey the wounded to the hospital.
Several passengers in both buses who sustained very serious injuries were conveyed to the Techiman Holy Family Hospital and the Nkenkensu Health Centre.
The Yutong bus with registration number GC 4818 Z, travelling from Bolgatanga to Kumasi, veered off its lane and crashed into the Kumasi-Tamale bus with registration number GN 2673-10.
The accident occurred between Nkenkensu and Akomadan in the Offinso municipality.
A survivor told DAILY GUIDE that when they (passengers) were about to reach Nkenkensu, they realized that their driver was dozing off. Before they could call him to order, the lights of the vehicle went off and it crashed into the bus from the opposite direction.
The witness said their vehicle ran straight into the oncoming mini Yutong bus.
The impact of the crash ripped off the roof of the Tamale bound bus.  Both buses were travelling at top speed, according to survivors.
Another survivor also told DAILY GUIDE that the Yutong bus which was travelling from Bolgatanga to Kumasi was also carrying several goats.
When DAILY GUIDE reached the scene, about 76 goats had also perished alongside the human beings.
Most survivors of the accident suffered severe bodily wounds and were rushed on time by Good Samaritans to nearby hospitals for immediate medical attention.
It is feared that the death toll could rise later following the serious injuries sustained.
The dead goats that were on board the Kumasi bound bus were also seen dismembered at the accident scene.
ASP Philbert Zubavile, the Akomadan District Police Commander, said his outfit had started investigations into the cause of the accident.
The Administrator of the Nkenkenso Government Hospital, Daniel Karikari disclosed that survivors who were in critical conditions had been conveyed to the Komfo Anokye Teaching Hospital in Kumasi.
Last year, many lives were lost through similar road accidents involving Yutong buses on the highway from Bolgatanga to Kumasi.
The Amina Spot near Kintampo alone recorded two fatal accidents which led to the death of more than 10 people with many others sustaining serious injuries.
Meanwhile, the bodies of the dead have been deposited at the Techiman Holy Family Hospital and the Offinso St. Patrick hospital mortuaries.
From Eric Bawah & I.F. Joe Awuah Jnr., Nkenkenso, Ashanti