Ghana's inflation drops to 8.58%, but pressures loom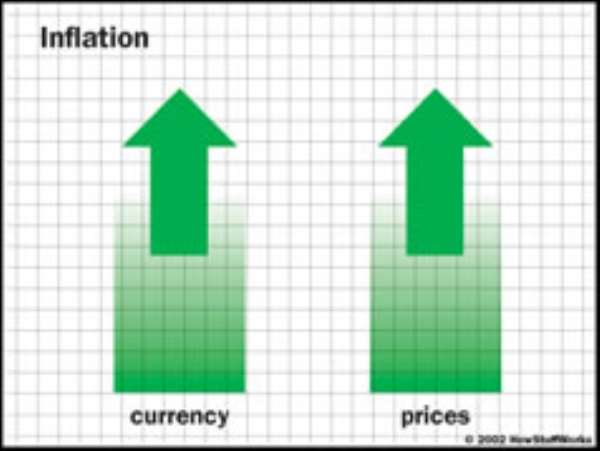 Ghana's inflation slowed to a new 18-year low of 8.58 percent in December, feeding expectations the West African economic heavyweight will keep its policy interest rate on hold in the short term.
But mounting price pressures in a country that last month joined the club of African oil producers could end the disinflationary trend in January, the government and economic analysts said on Wednesday.
"The chances of inflation going up in January are 80 to 90 percent," said Ebow Duncan, director of economic statistics, at a press conference, citing a government move to hike retail fuel prices by 30 percent.
Annualised inflation fell to 8.58 percent in December, from 9.08 percent in November, marking the 18th straight month of slowing or stable inflation and bringing the rate to the lowest since June 1992, according to the statistics office.
The decline was greater than analysts anticipated, and supported expectations the Bank of Ghana would avoid raising interest rates in the near term.
"The 8.58 percent outturn is historically low and was achieved on the back of fiscal consolidation, as well as fairly stable food prices and exchange rates," said Sampson Akligoh at Databank Financial Services.
"This should support stable interest rates for at least the first quarter of 2011 even as developments in the economy point to a build-up of inflationary pressures."
The central bank's Monetary Policy Committee last month held the prime interest rate steady at 13.5 percent, after shaving off five percentage points since late 2009.
"We were expecting a print of 9 percent," said Razia Khan, head Africa economist at Standard Chartered Bank. "There will be little pressure for the Bank of Ghana to alter its monetary policy any time soon."
The next Bank of Ghana Monetary Policy Committee meeting is expected in February.
MOUNTING PRESSURES
Ghana is one of a handful of sub-Saharan countries with a Eurobond and is poised to be Africa's fastest-growing economy in 2011 after joining the club of oil exporters with the start-up of its offshore Jubilee field last month.
The government announced last week it had raised the price of petrol and diesel by 30 percent in an effort to offset a costly surge in crude oil prices on the world market and to pay off the state-owned refinery debt.
"With the recent increase in fuel prices, we expect (the pace of inflation) to inch up this month by at least 50 basis points," said Kwabena Owusu Yeboah of Access Bank.
Analysts had already expected Ghana's inflation to begin ticking slightly higher in the coming months due to a less favourable year-on-year base, utility price and public wage hikes, and the onset of oil revenues.
Critics warned the fuel hike will hurt ordinary Ghanaians and small business by rippling through the transport and manufacturing sectors, but analysts said the move could boost investor confidence by showing Ghana is willing to make tough choices to tame its budget deficits.
The country's 2011 budget, approved by parliament last month, predicts economic growth doubling to 12.3 percent -- above the IMF's forecast for 9.9 percent but roughly in line with analyst projections.
The yield on Ghana's $750 million 2017 Eurobond eased 0.002 points to 6.322 percent on Wednesday with the Ghanaian cedi firming slightly to 1.4790 to the dollar.