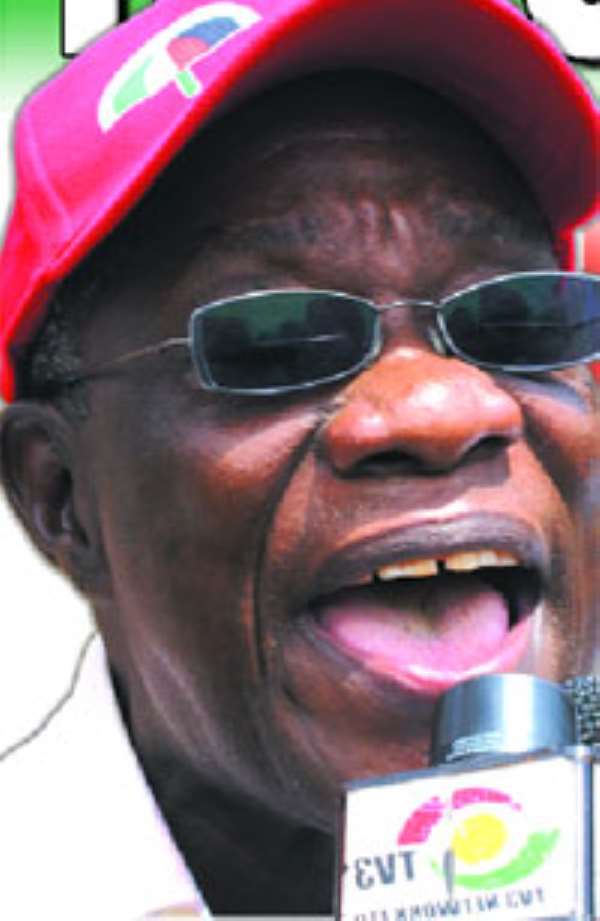 President John Evans Atta Mills
President John Evans Atta Mills has stated categorically that he cannot stop former president Rawlings and ministers in his government from celebrating the 31st December 1981 coup, because it is the National Democratic Congress (NDC) Founder's Day.
'I belong to the NDC, and 31st December is one of our Founder's Day,' he said, whilst addressing senior journalists at the Osu Castle last Friday.
He said all the political parties have a Founder's Day, and that there was nothing wrong if the NDC, which he belongs to, also decides to celebrate theirs.
President Mills, who was on his feet for close to two and half hours answering questions from the editors, also denied the report made public by the Wikkileaks website that he accused some of his government functionaries of dealing in drugs. According to him, he would be the first person to give up such people if their identities were known to him.
He explained that when he came into office, he was confronted with a loophole in the smuggling of the drugs at the airport, and therefore, requested that scanners be put at the Very, Very Important People (VVIP) Lounge at the airport for everybody to go through them, since nobody was above the law.
According to him, at no point did he tell any foreign mission that he suspected some of his men to be dealing in drugs.
When asked whether it was right for his government to collaterise the country's oil, the President responded that he was surprised about the comments being made about the decision taken by his government. He argued that cocoa had been used as collateral for several years, and that it was not a bad business practice.
According to him, the New Patriotic Party (NPP), which has been very vociferous on the issue, knew that cocoa was being used as collateral, which they also continued with, and wondered why they should now be making noise about the collaterisation of the oil, which was done in good faith.
President Mills also defended the astronomical increase in petrol prices. According to him, his government met a debt of GH¢1.488 billion, owed by the Tema Oil Refinery (TOR) to its creditors, even though the then government came out with a TOR debt recovery levy.
According to him, though the government paid GH¢472 million of the debt, it still keeps on rising as a result of the subsidy of petroleum products. 'Where is the TOR recovery levy? These are the questions we have been asking without answers,' he said.
Touching on his campaign promise to reduce prices of fuel drastically, he noted that what he actually said was that if he was the President at the time, he would have reduced the prices, considering the situation at the time.
President Mills asserted that during the second round of the 2008 general elections, the NPP drastically reduced the fuel prices, which he underscored, was a vindication of their (NDC) position at the time.
The President also told the editors that he had a lot of respect for former president Rawlings because of the vast experience he has, and that whatever criticism he makes against his government would be considered.
To him, contrary to the assertions that Mr. Rawlings' booms, it was rather the media that booms on a daily basis, a comment which attracted laughter from the journalists.
He commended the Ghana Football Association (GFA) for its achievements, and stated categorically, that he had nothing against the members of the FA. He said the action taken by the Economic and Organised Crime Office (EOCO) against the GFA had nothing to do with his government.
'What are we fighting for? What happened at EOCO, I had nothing do to with it. My appeal to everyone is that let us credit each other with good faith. With a hidden agenda, we cannot progress. Why? What are we fighting over? The quarrels are unnecessary. The politics of insults does not help us in anyway. We need to be careful as a nation,' he admonished.
The President further dismissed the suggestion that he had an agenda to get rid of the Chief Justice, Mrs. Theodora Georgina Wood, and asked, 'Do I look like and sound like a cat hunter?'
On the Cote d'Ivoire issue, he said the government of Ghana had not taken sides, and that the government was in support of the decision taken by ECOWAS. He said he was not prepared to commit his military to Cote d'Ivoire, because Ghana had its own internal security problems.
He further stressed that some of the military men were already on peace-keeping missions at various locations across the globe, and cannot, therefore, raise men to go to Ivory Coast.
'Some of us believe in quiet diplomacy, and in all my dealings, I am mindful of what I do. I don't want to meddle in other people's matters.'
He said the government of Ghana recognised that Mr. Ouattara was the recognised President, and that Lauren Gbagbo should leave the scene.
'I have been in touch with Ouattara and Gbagbo. I want to state that it is not true that we are helping to import arms to Cote d'Ivoire. I don't think that a military operation would bring peace to Cote d'Ivoire. We should be careful, because as we speak, four Ghanaians are being kept in Cote d'Ivoire on suspicion that they are rebels,' he said.
President Mills declined to award himself marks, as happened in his previous interaction with the press, saying, 'After two years in office, I have learnt not to mark my own scripts.'
He commended his Chief of Staff, his Finance Minister, Dr. Kwabena Duffuor, and the Vice President, H.E. John Dramani Mahama, for supporting him fix the economy.
'When we came to office, we were shocked about the state of the economy that the NPP left, but with support from my Vice President, my Finance Minister, and my Chief of Staff, we were able to manage the economy, and this time, I think we cannot continue to subsidise fuel products.'