Increase In Prices Of Petroleum Products - It's In Our Interest - President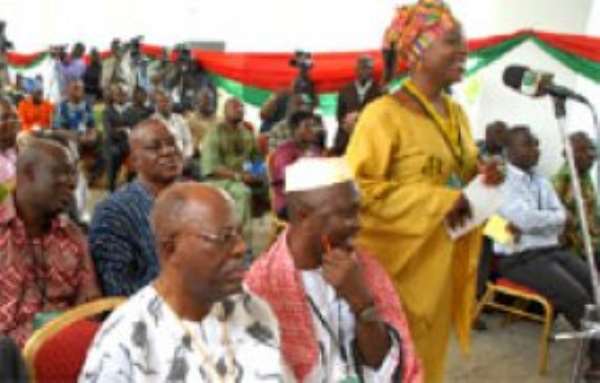 Ms Shamima Muslim of Citi FM asking a question at the forum.
The President, Professor John Evans Atta Mills, has stated that the recent increase in the prices of petroleum products was a necessary evil intended to set aside money meant for subsidies on the products to facilitate social intervention policies for the vulnerable and disadvantaged in society.
He, therefore, asked Ghanaians to exercise restraint, since the government would use that money judiciously to alleviate their plight and open up the economies of their areas for accelerated development.
Interacting with the media at the Castle, Osu, Friday, President Mills explained that the government inherited a huge debt at the Tema Oil Refinery (TOR), amounting to about GH¢1.5 billion, which he said had become an albatross on the operations of the institution.
He further explained that the huge debt was left behind by the New Patriotic Party (NPP) administration which was today accusing the National Democratic Congress (NDC) of upwardly adjusting the prices of petroleum products.
The President asked the NPP to rather apologise to the people of Ghana for toying with the fortunes of TOR by plunging it into massive debts.
He said realising the strategic role of TOR in the country's economic development, the government raised GH¢472 million to defray part of the debt, which had been accruing since the NDC assumed office on January 7, 2009.
President Mills said although it was a difficult decision for the government to increase the prices of petroleum products, it did so with the intention of salvaging TOR from collapse, as well as raising resources for social intervention programmes in the country.
He said the government was aware of the effects of the increase in petroleum prices on the economy, especially on agriculture, industry, manufacturing and commerce, and stressed that it would do everything possible to stem its negative impact on the people through social intervention policies.